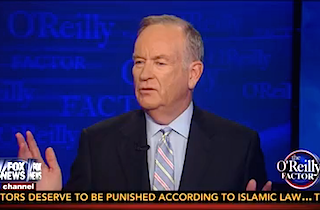 Corporal punishment against children is in the news week after Minnesota Vikings running back Adrian Peterson was indicted for taking a "switch" and "whooping" his kids. So on Wednesday evening, Fox News' Bill O'Reilly decided to invite fellow host Martha MacCallum on his program discuss the value — if any — in hitting children.
The pair began by looking at surveys that show that a majority of Americans believe it is OK for parents to spank their kids, with the positive percentage reaching 82% when you ask African-Americans (as opposed to 71% for whites). O'Reilly agreed that causing lacerations from something "akin to a whip" constitutes "abuse," but had different feelings about regular, old spanking.
RELATED: Don Lemon: Not 'Condoning' Peterson's Actions, But Parents Have 'Right to Discipline' Children
"How about a child that runs in the street?" O'Reilly asked at one point. "And you say, 'look, you can't run in the street because you'll be dead if the car hits you' and the kid still runs in the street. You've got to get the child's attention."
"By hitting them?" MacCallum responded.
"No, I didn't say that," O'Reilly said. "I'm not going to condemn Americans tonight who have spanked their children gently or lightly, I'm not going to do that here on The Factor, I don't think that's right. Because each child is different. And if you're trying to protect your child from something, and you give them a little whack when they're younger and they remember that whack because it startles them, that might accomplish it."
Watch video below, via Fox News:
[Photo via screengrab]
— —
>> Follow Matt Wilstein (@TheMattWilstein) on Twitter
Have a tip we should know? tips@mediaite.com