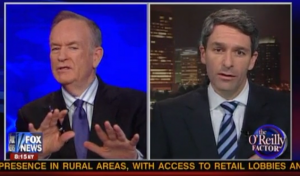 On Wednesday, Bill O'Reilly continued his reporting on, yes, the "still unresolved mob violence" in Norfolk, Virginia. To further discuss the case, he was joined by Virginia's attorney general, Ken Cuccinelli. The two clashed a bit, as Cuccinelli corrected O'Reilly and clarified that neither he nor the governor have any authority to step in.
Noting that Florida appointed a special prosecutor in the Trayvon Martin case, O'Reilly asked whether Virginia could take similar action. Cuccinelli clarified that the law in Virginia leaves "the responsibility for the investigation and the prosecution of this case with the local police and the local commonwealth attorney."
He added, "I do not have, contrary to what you reported Monday, I do not have, as attorney general of Virginia, any legal authority to step in and intervene in this case." His role, he said, is after a conviction, to handle all the appeals.
O'Reilly said it's "disturbing" that there's a police department that doesn't want to investigate this case — only to be reminded by the attorney general that there are two investigations happening right now. Countering that, O'Reilly pointed to the victims' police complaints, in which they stated that the police didn't want to solve the crime. He then asked, "You are saying that you don't have the power to appoint a special state prosecutor and state investigator to go in and oversee this. Does the governor have the power to do that?"
Cuccinelli said the governor does not have that power, unless there's a conflict of interest with the prosecutor locally, which there is not at the moment. O'Reilly pressed, "Who could mobilize the state police to go in and investigate this mob violence? Who could do that?"
"If the process was completed," he replied, "And, note, there are two investigations going on right now, there are two of them, not just one, going on now — if there was an indication that it was a coverup instead of an investigation, then the state police could conduct their own investigation. They are providing some oversight right now."
Asked whether there isn't already indication of a coverup, Cuccinelli replied there isn't — and O'Reilly allowed himself to "challenge" that. Cuccinelli quipped, "Right, because you have all the facts, Bill, just like Monday, when you got it wrong on Monday."
The two argued back and forth, and Cuccinelli interjected to clear up the way the police department works, specifying that the Internal Affairs division investigates complaints. Nonetheless, O'Reilly said some many feel the need for an outside agency, and the attorney general acknowledged that perspective, but say we need to let the investigation "play out."
"The two people's lives have been threatened," O'Reilly said. "They had to leave the area."
Cuccinelli again clarified, "Bill, they were scared after the event but they have not had any separate threats to them." To be clear, he said, there is a "terrible underlying crime" and they do want to get to the bottom of it.
O'Reilly couldn't help asking again at the end of the segment whether Cuccinelli couldn't force the release of 911 tapes — and was told that such FOIA requests aren't possible during open investigations.
Take a look, via Fox News:

Have a tip we should know? tips@mediaite.com