O'Reilly Tears Apart NSA Snooping: What's To Stop Gov't From Exploiting GOP Phone Calls?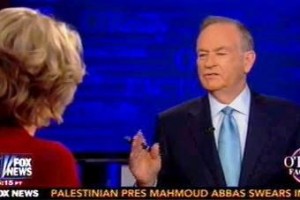 Bill O'Reilly was fired up tonight over the revelation that the government was collecting massive amounts of U.S. cell phone data. Megyn Kelly explained the details of the program to O'Reilly, who engaged in some wild speculation over what the government can do with this information. He brought up the IRS tea party targeting scandal, and asked what's to stop the government from singling out Republican phone records for special scrutiny, even exposing if there's a senator who might be calling "Trixie."
RELATED: 'Fascism!': The Five's Beckel Explodes At Obama Administration Over 'Deplorable' NSA Phone Records Grab
Kelly brought up Senator Dianne Feinstein's defense of the program, namely that the information can only be used if there is "reasonable suspicion that the records relate to terrorist activity." O'Reilly called it "B.S.," and explained the danger of the government having all this information.
"Did you hear about the IRS scandal? Did you hear about the IRS taking personal information and feeding it out to left-wing websites?… You're telling me that can't happen here? It absolutely can happen! So, for example, some conservative senator calls Trixie at the Hot Licks Massage Parlor, guess who knows it? And guess who can put it out any time they want?"
He added, "Trixie has a number, the senator has a number, the guy goes like this, 'Whoa!' and zips it out to some website that could hurt the senator!"
O'Reilly also laughed at the idea that Feinstein is making sure Americans' privacy is not being infringed, mockingly shouting, "Does that make you feel good? All right, is everybody fine with Dianne Feinstein protecting our privacy?!" Kelly noted that most recent polls have shown President Obama's trustworthiness plummeting with the American people.
Watch the video below, courtesy of Fox News:
—–
Follow Josh Feldman on Twitter: @feldmaniac
Have a tip we should know? tips@mediaite.com
Josh Feldman - Senior Editor