O'Reilly Tears Apart Zimmerman Coverage: Media Doesn't Care About Race, Just 'The Specter Of Oppression'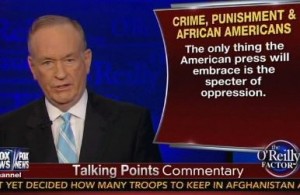 Bill O'Reilly opened his show today calling out the media for focusing on the George Zimmerman murder trial and ignoring black-on-black crime to paint a very unfair picture of race and crime in America. O'Reilly said that black people kill each other all the time, citing Chicago as a city with particularly disturbing crime rates, but explained that the media doesn't talk about that because they only care about race when it helps to promote the idea that minorities are still being oppressed by white people.
RELATED: On The Five, Gutfeld Accuses Media Of Only Caring About 'Racially-Charged Component' Of Zimmerman Trial
O'Reilly cited statistics showing that over the July 4th weekend, 11 black men died from being shot, but said that "will not get a smidgen of coverage, because it's likely that blacks killed blacks." He brought up a Rasmussen poll showing that over a third of Americans think black people are the most racist group in the U.S., and 31 percent of black people actually agree. But O'Reilly said the media will never talk about this, because they don't really care about race.
"The only thing the American press will embrace is the specter of oppression. That is, if a white American kills a black American, or any other minority, then the story gets covered. That's wrong, and it causes racial division."
He predicted, "If George Zimmerman is acquitted, there will be racial animus."
Watch the video below, courtesy of Fox News:
—–
Follow Josh Feldman on Twitter: @feldmaniac
Have a tip we should know? tips@mediaite.com
Josh Feldman - Senior Editor