O'Reilly Blasts 'Incredibly Dumb' Liberal Statements On Boston: I'm Going On A 'Jihad' To Embarrass These People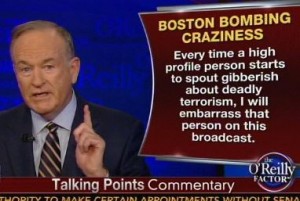 Bill O'Reilly opened his show tonight railing against liberals attempting to belittle or disregard the issue of the Boston Marathon bombers being influenced by radical Islam. O'Reilly claimed that many on the left were "disappointed" the bombing suspects are Muslim, and specifically called out MSNBC's Alex Wagner for mocking his own coverage by claiming he was just one step removed from accusing President Obama of being a secret Muslim. O'Reilly pledged that so long as people continue to make such ridiculous statements, he'll keep calling them out through a "jihad" of his own and embarrassing them on his show.
RELATED: O'Reilly And Krauthammer Blast Obama For Not Denouncing Radical Islam In Wake Of Boston Bombings
O'Reilly played audio of the Tsarnaev brothers' mother crying and declaring that her boys did nothing wrong, opining that "nothing on earth that would make that woman accept reality." O'Reilly tore into NBC News specifically for trying to "denigrate the serious issue of Islamic terrorism."
In particular, O'Reilly focused on Wagner analyzing his coverage of Obama refusing to speak out against radical Islam as just one step removed from accusing the president of secretly being a radical Muslim himself. O'Reilly remarked that it's unbelievable she has such a prominent platform on the cable news network. He ran video of a professor claiming that the Tsarnaev brothers may have been radicalized in the United States, and rebutted all the pushback by insisting there is "overwhelming evidence" the bombing suspects carried out their plan "in the name of Allah."
O'Reilly declared it's "insulting" to the victims of the bombing and their families to try and sugarcoat or gloss over what led to that horrible action. O'Reilly pledged to go on a "jihad" of his own, and to keep embarrassing people spouting off such ridiculous statements sos long as they keep doing so.
Watch the video below, courtesy of Fox News:
—–
Follow Josh Feldman on Twitter: @feldmaniac
Have a tip we should know? tips@mediaite.com
Josh Feldman - Senior Editor