O'Reilly Tells Glenn Beck He Will Address Mother Jones Accusations on Fox Tonight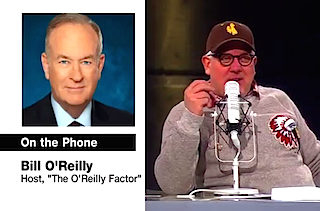 Fox News' Bill O'Reilly is aggressively trying to "put a stake through the heart" of accusations made by Mother Jones this week that he exaggerated his "war zone" experience during the Falkland Islands conflict, much in the same way Brian Williams lied about his time spent in Iraq.
The host began by giving phone interviews to several online outlets — including Mediaite — calling Mother Jones' David Corn "a despicable human being" and labeling the story "total bullshit." But now that the story does not seem to be going away, with CNN devoting a lengthy segment to it last night, O'Reilly appeared on Glenn Beck's show Friday to say he plans to address the issue further on his Fox program tonight.
Former Fox colleagues Beck and O'Reilly laughed it up about the allegations, with O'Reilly insisting that "nobody reads" Mother Jones anyway. "But the internet is the big story," he said. "What we're doing tonight and why I'm even bothering with this is that once and for all I want to put a stake through the heart of these irresponsible websites that pick up crap, throw it out there as fact, even though they know it's a lie. This is so absurd."
O'Reilly said that he would be presenting memos from his former bosses at CBS News, proving "what a good job" he did covering the Falkland Islands from Argentina and Uruguay. He reiterated that he "never said one time" that he was actually on the Falkland Islands.
In one of the video clips highlighted by Mother Jones from 2013, O'Reilly states, "I was in a situation one time, in a war zone in Argentina, in the Falklands, where my photographer got run down and then hit his head and was bleeding from the ear on the concrete."
Watch video below, via TheBlaze:
[Photo via screengrab]
— —
>> Follow Matt Wilstein (@TheMattWilstein) on Twitter
Have a tip we should know? tips@mediaite.com