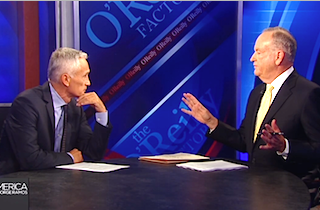 Fusion host Jorge Ramos has been on Bill O'Reilly's show before, but tonight the Fox News host returns the favor (albeit still in his own studio) and sits down with Ramos for an interview on his show America. In a preview clip released by the cable network, O'Reilly explained why some recent criticism from Jon Stewart got under his skin so much.
For his first Daily Show back after a two week break, Stewart went after what he felt was O'Reilly's misguided anger in the midst of the Ferguson, Missouri protests. O'Reilly later fired back, calling Stewart's show "propaganda" and a "partisan-driven program" — unlike his own.
"I'm surprised that you're so sensitive to criticism," Ramos told O'Reilly.
"If its fair criticism, I don't think I'm sensitive. If it's unfair, then I am," O'Reilly said, agreeing that Stewart's Ferguson commentary fit that bill. When Ramos said The O'Reilly Factor, too, was a "partisan-driven" program, O'Reilly protested.
"My show is my point of view. It's not a party politics or anything like that. It's what I believe. If you want to say I'm a partisan on certain issue, OK I'm not going to argue with that," O'Reilly said. "On certain issues I'm conservative, on certain issues I'm liberal. So sure I am partisan on whatever issue it is we are talking about…"
At that point, Ramos cut him off: "I've never heard anyone calling you liberal."
"Well then you haven't been listening Jorge," O'Reilly said, listing his opposition to the death penalty and his belief in global warming are examples of his "liberal positions."
"But what Stewart did was he took my remarks and tried to tell his audience that I was callous and didn't care about the teenager who was shot dead in Ferguson," O'Reilly continued. "And I just showed the audience that wasn't true and I ran 3-4 clips that proved my case. So all I have to do is correct the record rather than be sensitive, I'm just trying to get the truth out there."
Watch video below, via Fusion:
[Photo via screengrab]
— —
>> Follow Matt Wilstein (@TheMattWilstein) on Twitter
Have a tip we should know? tips@mediaite.com