O'Reilly: Journalists Should Be Prosecuted; NYT Is 'Running Wild' With Murdoch Story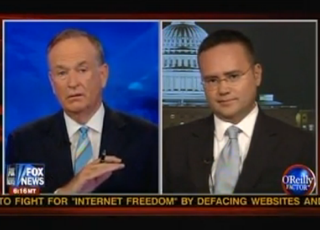 As Rupert Murdoch News Corporation hacking scandal continues to unravel, the manner in which his properties will cover the development continue to be of high interest. On tonight's Factor, Bill O'Reilly did not skirt around the issue engulfing his parent company, though he and his guest agreed that a "witch hunt" had begun after Murdoch, one that may have given the false impression that American News Corp properties were in danger.
O'Reilly gave the story both a hard news and analysis treatment tonight. Fox News' Amy Kellogg reported that, while there was plenty of outrage about the hackings, especially since the scandal goes "beyond media… now touching the police, touching government at the highest level," Murdoch still had "loyal readers" who probably suspected of illegal activity. But the more intriguing segment was with the Heritage Foundation's Nile Gardner, who stridently defended News Corporation against this "witch hunt" and lamented the possibility of further regulation.
"There is not a shred of evidence that the U.S. side of News Corporation has been involved," Gardner argued, though meeting some resistance from O'Reilly over the actual allegations. "Journalists are people, too," O'Reilly argued, and should be subjected to the law, especially in situations like the hacking of Milly Dowler's phone, a teenager who was murdered in England. While O'Reilly agreed that the New York Times "absolutely running wild" with the story was questionable, O'Reilly expressed skepticism in Gardner's argument that no further regulation is needed in England. "The British press is probably the freest on the face of the earth," Gardner argued, but "there is real accountability in place. We don't need new regulations."
The segment via Fox News below:

Have a tip we should know? tips@mediaite.com