O'Reilly Asks Advocate Of Legal Prostitution: 'Why Can't They Get A Legitimate Job Like 99% Of The Population?'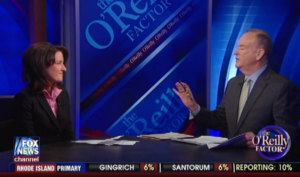 Following up on the Secret Service prostitution scandal, Bill O'Reilly discussed a related story Tuesday night about those who are using the scandal to promote the legalization of prostitution. Sienna Baskin, co-director of the Sex Workers Project at Urban Justice Center, gave her take — asserting that many of these girls don't have another choice. O'Reilly disagreed: after all, "this is America, the land of opportunity."
Baskin told O'Reilly that under the current system, her clients are afraid to go to the police in cases like payment disputes (which was the issue in that helped bring the Secret Service scandal to light). "My clients, when they do try to report crimes, are ridiculed, are ignored and are sometimes even arrested or harassed themselves by the police," she said.
It's a crime, O'Reilly said. "It's like a drug dealer saying I got ripped off. They are going say, 'That's too bad, don't deal drugs.' It's the same thing." His problem with legalization, he said, is that it sends the message that this is okay.
Baskin said, "Most of my clients are not choosing to do sex work because that is what they choose to do. Most of my clients have very few other opportunities. No other opportunities."
"What do you mean they don't have other opportunities?" O'Reilly asked. "This is America, the land of opportunity." He went on, "Why do they have to sell their bodies to make a living? Why can't they get a legitimate job like 99 percent of the population?"
Baskin cited the economy. "It's 8% unemployment beef, and you can wait tables and drive a cab any time you want in this city," O'Reilly said. "Tell me why they can't work in a straight job, why?" Baskin said she wanted to address other concerns, but O'Reilly pressed on, repeating the question. There just aren't jobs, she said. Even in good times, O'Reilly said, who have chosen prostitution.
"Don't you think it's harmful to a human being to sell their body? Don't you think so?" O'Reilly asked. Baskin said she would not make any judgments.
Take a look, via Fox News:

Have a tip we should know? tips@mediaite.com