O'Reilly To Bernie Goldberg: Media Covered Booker Only Because 'It Happened On NBC'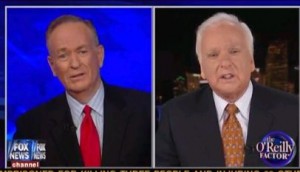 This week's "Weekdays with Bernie" segment was a little bit of everything on the difficult week the Obama administration has had, from Press Secretary Jay Carney fumbling over a question about President Obama's support for Occupy to the White House's response to Newark Mayor Cory Booker calling the reelection campaign against Bain "nauseating." It was all, according to Bill O'Reilly, part of a "rope-a-dope" technique among Democrats to lure the American people in, one he did not see to have a successful future.

RELATED: O'Reilly On Virginia Assault: If It Had Been Whites Attacking Blacks, MSNBC Would Be All Over It
"Mr. Carney had a tremendously hard time," O'Reilly noted of his answer to a question on the President's support of Occupy after several potential terrorists were arrested in Chicago claiming participation in the movement. "I don't think I've seen a Press Secretary so flummoxed," he remarked. Bernie Goldberg was willing to defend the Press Secretary. "Shame on you, Bill!" he joked, "that was cruel and unusual punishment, putting that on two nights in a row. I don't think you, who are no shrinking violet, could support the President in that position." The problem liberals, including President Obama, Goldberg argued, had with the Occupy movement now is that they "naturally embraced the movement," but now that they had changed dramatically, the White House was in a predicament.
O'Reilly agreed that Occupy had become a "hardcore left, anarchist movement designed to cause trouble," something the White House would struggle with significantly. The President is attempting to sit it out, but O'Reilly did not believe it could work. "He thinks he can do a rope-a-dope, but this is a powerful program [O'Reilly Factor] and this is starting to get out now," O'Reilly argued, adding that the media was not covering news that would harm the Obama administration unless they had no choice. Given the amount of negative fallout from Booker's interview this weekend, O'Reilly clarified that it got media attention "because it happened on NBC News," but had it happened on Fox News, no one would have covered it.
The segment via Fox News below:

Have a tip we should know? tips@mediaite.com