O'Reilly to Female Guests: 'There's Got to Be Some Downside to a Having Woman President, Right?'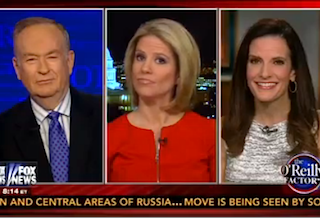 On Tuesday evening, Rep. Michele Bachmann (R-MN) went on The O'Reilly Factor to try to clarify some statements she recently made about American not being "ready" for a female president. So, as a follow-up to that segment last night, Bill O'Reilly invited two of his frequent female guests on the show to ask one simple question: "There's got to be some downside to having a woman president, right?"
What followed was an extended pause from both Kirsten Powers and Kate Obenshain. Finally, Powers spoke. "Hmm… I'm going to say no, Bill." Instead, she turned it around on O'Reilly, asking, "What's the downside of a man being president?"
The host said he would need "three years" to list off all the downsides to male presidents, but all he came up with was the men can get "caught up in a macho image" and are "not as open to a sensitive discussion" as women are.
O'Reilly can typically count on the conservative Obenshain to have his back, but not on this one. "You know, I'm having a tough time with this one too, Bill," she said. "I think it depends on the individual. Of course there is a downside to certain individual women… I don't generalize all women and all men."
Seemingly just to humor O'Reilly, Powers did come up with one "downside" to having a female president. "If you can take your example of men being macho, a woman might feel like she needs to act macho, for example, maybe feel like she had it to vote for say, the Iraq War," she said, in a clear nod to Hillary Clinton.
"There are some people out there who would wonder, 'Is a woman going to be comfortable using military force?'" Powers continued. "I think it's a silly thing to worry about because we have seen strong woman leaders, but some people think that."
Watch video below, via Fox News:
[h/t TPM]
[photo via screengrab]
— —
>> Follow Matt Wilstein (@TheMattWilstein) on Twitter
Have a tip we should know? tips@mediaite.com