O'Reilly To Guest: As A Conservative, Are You "OK With People Dying" In Natural Disasters?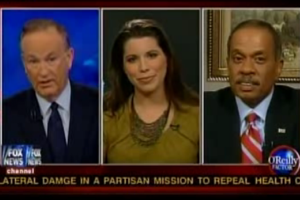 The first full business day of the year finally gave the cable news world proper time to address the madness in New York City after last week's blizzard, and bad feelings about the clean-up still abounded. On tonight's O'Reilly Factor, Bill O'Reilly took a strong stance for federal intervention in such situations, suggesting conservative columnist Mary Katharine Ham, by not supporting an intervention, was "ok with people dying."
O'Reilly kept the debate– between himself, Ham and Juan Williams, quite lively, as he blamed local authorities for underestimating the damage and, as a New Yorker, seemed personally peeved by the slow work of cleaning the snow up. He pushed Ham to cede that federal intervention in the clean-up would have been a worthy solution, though she insisted that she wasn't "the first to jump and say federal intervention is definitely the way to solve this" and offered public pressure on politicians as a solution instead.
"You're talking theoretically," O'Reilly countered, and, in comparing the snowstorm to Hurricane Katrina, summarized the problem as follows:
"The root of the problem is the same that we had in Katrina, that the local mayor- [Ray] Nagin– and the governor- [Kathleen] Blanco– of the state didn't ask for the feds to come in and people died. So, Mary Katharine, you're saying 'as a conservative, I'm ok with people dying if they don't ask."
Ham objected loudly and sarcastically to this categorization of her argument, while Williams could be heard laughing quietly in the background. On his part, Williams added that, as a frequent flier, Kennedy Airport and the entire New York airspace appeared far too chaotic for him, with snow or without.
The debate via Fox News below:

Have a tip we should know? tips@mediaite.com