O'Reilly To Santita Jackson: Should Some Black Leaders Apologize Over Trayvon Martin Reaction?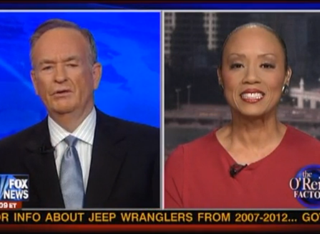 With the Trayvon Martin case finally going to trial, the inflamed emotions of the nation were the top story on The O'Reilly Factor tonight, and after report on the current legal situation, Bill O'Reilly turned to new Fox News contributor Santita Jackson to discuss the reaction to the charges and the dangers of the New Black Panthers calling for a "race war."

RELATED: Fox News Hires Jesse Jackson's Daughter Santita Jackson As Newest Contributor
Tonight was Jackson's debut on the Factor since hired by the network, so O'Reilly began the segment with a warm welcome to the radio host and daughter of Rev. Jesse Jackson. She reacted to the news of the charges, saying she didn't "think anyone is happy," only "glad to see the system of justice does work." She did not think, as O'Reilly did, that those getting emotional over the story should give apologies outside of extreme cases, though. O'Reilly asked about "all these threats" and agitation from many, including Rev. Al Sharpton (he replied he didn't include Rev. Jackson in that bunch." She agreed there was "a lot of pain" and that must be understood.
O'Reilly then showed a clip of the New Black Panthers' Chief of Staff talking of a "race war," which O'Reilly argued is the sort of rhetoric not "openly repudiated by the so-called black leadership– the Congressional Black Congress, Sharpton, your dad…" She explained that, as Christians, "we are not in the repudiation business" and instead are peaceful, and clarified that the NBPP member on the tape had apologized, also holding up Trayvon Martin's parents' behavior as how the majority of people have reacted, as opposed to the New Black Panthers.
The segment via Fox News below:

Have a tip we should know? tips@mediaite.com