O'Reilly Tries to Convince Megyn Kelly That Men and Women View ISIS Differently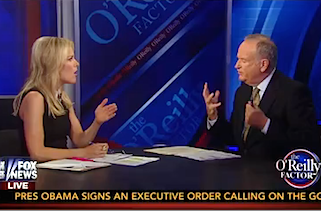 Bill O'Reilly wanted to find out whether men and women had a different "visceral reaction" to the videos that showed ISIS beheading American journalists James Foley and Steven Sotloff. So he invited noted woman Megyn Kelly on his show Thursday night to compare notes.
Asked right off the bat if she thinks men and women see the ISIS threat different, Kelly answered, "I don't."
"Maybe you'll prove me wrong, but my feeling right now is both men and women in America view it as abhorrent, dangerous," she said.
After establishing that neither of the hosts actually watched the beheading videos (as Kelly put it, "that's like sucking in bus exhaust, it's just bad for you"), O'Reilly explained that his reaction was, "I want to kill ISIS. I want to get a bazooka and just blow them off the face of the Earth."
On the other side, Kelly's initial reaction was, "I don't understand how these people are the same thing as I am, a human being. They seem like animals to me."
"That's the difference between men and women," O'Reilly explained. "You were thinking rationally about 'how could this happen?' I was thinking only about 'I want to kill these guys with a bazooka.'"
So either Kelly "proved" O'Reilly's point that men and women see violent acts differently, or she is simply more "intellectual" than her Fox News colleague.
Watch video below, via Fox News:
[Photo via screengrab]
— —
>> Follow Matt Wilstein (@TheMattWilstein) on Twitter
Have a tip we should know? tips@mediaite.com