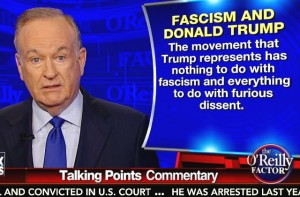 Bill O'Reilly really went on a tear against critics of Donald Trump on the left and the right for calling him a fascist and likening his rise to the rise of Adolf Hitler's.
O'Reilly said Trump has stepped in as an "avenger" for everyday Americans "promising to stop the madness and giving blunt voice to millions." He declared Trump's rise has "nothing to do with fascism, everything to do with furious dissent."
And while he admitted there's some darkness happening within the Trump campaign, "charges of racism and fascism are easy smears," O'Reilly said, designed to stifle freedom of expression.
Oh, but if you think O'Reilly is opposed to comparing anyone to Nazis, you'd be wrong, because he explained to Bernie Goldberg why Trump critics saying those above things are acting like the Nazis:
"It's funny, because the people who are doing this, they're using techniques that the Nazis used. By them calling Trump a Nazi and his supporters little brownshirts, they're doing the same thing that Goebbels… and all of those boys did, because they demonized the Jews, the intellectuals, the communists, the gypsies, the homosexuals. They demonized them in a way to try to get anger on the part of the German population towards those groups. It's the same thing that those in America are doing to try to get anger toward Trump and his followers."
Watch above, via Fox News.
[image via screengrab]
— —
Follow Josh Feldman on Twitter: @feldmaniac
Have a tip we should know? tips@mediaite.com
Josh Feldman - Senior Editor