O'Reilly/NBC Feud Takes New Turn; Network Exec Happy It "Has Nothing To Do With Us"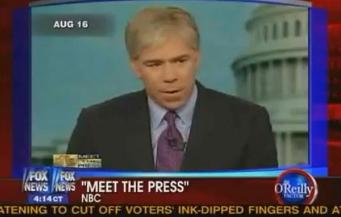 When we talked to CBS News and Sports President Sean McManus this week about the network's big victory Sunday, we ended the conversation with a question about the GE/FOX feud. "Thank heavens it has nothing to do with us," he told Mediaite.
The GE/FOX feud shows no signs of letting up, with Keith Olbermann again targeting Fox News hosts during his "Worst Persons" segment last night, and still throwing in a Bill O'Reilly reference at least once a week. And on The O'Reilly Factor, the Fox News host turned his attention to a new NBC News anchor.
In a segment that was teased online and on-air all day yesterday, O'Reilly had Bernie Goldberg on to talk about several stories, including a comment from David Gregory during Sunday's Meet the Press. "The show is now declining in the ratings fairly quickly, because Mr. Gregory is a left-wing guy, and says stuff like this," said O'Reilly, before playing a clip of Gregory describing the New Hampshire gun carrier at the town hall event while also talking about Timothy McVeigh.
"If you look at the sum of NBC's reporting on the protests for the last five weeks, it's all the same," said O'Reilly. "It all comes down to groupthink. And the groupthink is 'these people who come out to the town hall meetings, protest health care, are all a bunch of yahoos."
Attacking NBC News anchors, whether it be Gregory, Brian Williams, Matt Lauer or others, has a more stinging effect than again going after MSNBC (or "NBC properties" in general). And the cycle continues…
Here's the clip from The Factor (segment begins around 1:45):


Have a tip we should know? tips@mediaite.com