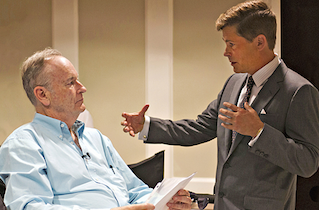 As Bill O'Reilly faces scrutiny over alleged exaggerations he has made over the years about his time spent covering the Falkland Islands war from Buenos Aires, another apparent embellishment, this one concerning his reporting on the JFK assassination, has reemerged.
On Tuesday, former Washington Post editor Jefferson Morley republished an article on his JFK Facts website that included evidence he said "exposes" a lie contained in the Fox News host's popular Killing Kennedy
book.
In the book, O'Reilly tells the story of a young reporter who tracks down a man named George de Mohrenschildt, a CIA asset who played some role in the JFK assassination:
"[The reporter] traced de Mohrenschildt to Palm Beach, Florida and travelled there to confront him. At the time de Mohrenschildt had been called to testify before a congressional committee looking into the events of November 1963. As the reporter knocked on the door of de Mohrenschildt's daughter's home, he heard the shotgun blast that marked the suicide of the Russian, assuring that his relationship with Lee Harvey Oswald would never be fully understood.

By the way, that reporter's name is Bill O'Reilly."
As Morley noted, O'Reilly also retold that story as fact to USA Today in 2012. But it turns out O'Reilly was actually in Texas on the day of de Mohrenschildt's suicide. O'Reilly did, however, win a Dallas Press Club award for his coverage of de Morenschildt for WFAA-TV, according to his bio.
In a series of audio tapes made by investigator Gaeton Fonzi, who Morley identified as O'Reilly's "most reliable source on the JFK story," O'Reilly can be heard saying he is going to travel from his office in Texas to Florida to look into the suicide after it happened. So there is no way he could have heard the "shotgun blast" with his own ears.
"O'Reilly's utterances prove that he was not knocking on George Mohrenschildt's doorstep as he now melodramatically claims," Morley wrote. "The truth is more prosaic. O'Reilly got a tip on a hot story, worked his sources to confirm it, and rushed to the scene. In making up this story for Killing Kennedy, he slighted the truth of his own professionalism."
Media Matters, the liberal watchdog site that has long targeted O'Reilly, jumped on the story Tuesday afternoon, publishing a lengthy report on the findings and speaking to two of O'Reilly's colleagues at the time who said his version of the events were not plausible.
The site also highlighted one more instance when O'Reilly told the dramatic suicide story, this time on Fox & Friends in 2012, seen below in an O'Reilly Factor special that aired in November 2014.
Watch video below, via Fox News:
Mediaite has reached out to the publisher of Killing Kennedy for comment and we will update this post accordingly.
UPDATE — Feb. 25, 4:18 p.m. ET: A representative for Henry Holt and Company, the publisher of O'Reilly's Killing Kennedy book, submitted this supportive statement to Mediaite:
"We fully stand behind Bill O'Reilly and his bestseller 'Killing Kennedy' and we're very proud to count him as one of our most important authors."
UPDATE — Mar. 1, 4:28 p.m. ET: CNN has released audio recordings of the call between O'Reilly and Gaeton Fonzi:
— —
[h/t The Daily Beast]
[Photo via NatGeo]
— —
>> Follow Matt Wilstein (@TheMattWilstein) on Twitter
Have a tip we should know? tips@mediaite.com