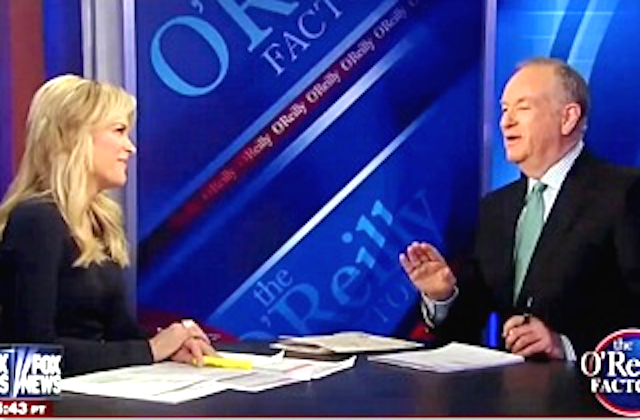 In case you missed it last night: Bill O'Reilly used the final portion of an on-air discussion with Megyn Kelly to rib her for the New York Times Magazine profile dubbing the current state of cable news "The Megyn Kelly Moment."
The magazine piece, which chronicled her rise to prominence as the future (and possibly current) face of Fox News and changing cable news demographics, was a "puff piece," according to O'Reilly.
"They don't like anybody else on the Fox News Channel, but they like her," he insisted. "[Because] you're charming." While Kelly attempted to explain that Times reporter Jim Rutenberg had been accurate and entirely fair — even to O'Reilly himself — the Factor host wasn't having any of it: He repeatedly cut off Kelly and mockingly dismissed her responses.
According to Mediaite sources — Fox on-air personalities who've asked to remain anonymous — Kelly was perturbed by the exchange. It's unclear whether she knew O'Reilly would bring up the magazine profile at all, but her initial look of disbelief might lead you to think a particular way on that.
Overall, however, she handled the exchange well. (She's not exactly a wilting flower.) Aside from the subtle Really? We're doing this now? looks shot at the stage crew and O'Reilly himself — and her stunned "Oh, wow" response — Kelly returned all his volleys with self-deprecating humor and muted pokes at his ego.
We'll try not to read into O'Reilly's mindset too far, but this segment did follow a certain pattern.
According to the aforementioned sources, O'Reilly was unhappy after Kelly beat him for the entire month of November in the key ages 25-54 demo — something that's never happened before. Furthermore, our sources say, he was "furious" that her ratings victory played a role in the Times piece at all (perhaps as proof she is replacing O'Reilly as the face of Fox).
"Jealousy is an ugly emotion," Kelly muttered to O'Reilly at one point in the segment. She might be onto something.
Take a look at all the other fairly-written (read: "puff pieces") profiles the New York Times has done on Fox personalities:
"The Red-State Network," from June 2001, about Fox News CEO Roger Ailes.
"News Reports for Ultra-Short Attentions," from March 2004, about Shepard Smith.
"Fox News's Mad, Apocalyptic, Tearful Rising Star," from March 2009, about Glenn Beck, obviously.
"About Roger," from Jan. 2010, about Ailes again.
"Being Glenn Beck," from Sept. 2010.
"In Beck's Shadow, Rise of 'The Five,'" from Dec. 2011, about the successful 5 p.m. talk show.
"A Reporter Who's Part of the Story," from Dec. 2012, about veteran reporter Carl Cameron.
Notice a particular name missing?
—
— —
>> Follow Andrew Kirell (@AndrewKirell) on Twitter
Have a tip we should know? tips@mediaite.com