O'Reilly's Producer Ambushes CO House Speaker, Accuses Him Of 'Protecting' Child Molesters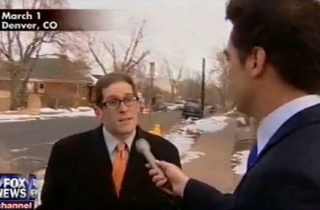 Seeing as how the O'Reilly producer is wont to accuse lawmakers of "protecting child molesters" and ambush them with questions, Colo. State Rep. Mark Ferrandino (D) was not spared such treatment. Watters found him walking his dog on a local street and took the opportunity to grill him about his "torpedoing" of Colorado's passage of "Jessica's Law," which imposes mandatory sentencing for first-time child molestation offenders.
"You're not protecting the kids from sexual predators in passing Jessica's Law. Why is that?" Watters asked.
"The DA has actually opposed Jessica's Law. So have victim rights groups in Colorado," Ferrandino explained. "In 2009, the DAs came out in opposition to the bill. They haven't supported it still. We have very strong laws."
"You actually don't have strong laws because let me give you a few examples," Watters said. "800 times a guy just sexually assaulted a seventh grader and just got one year of work release. Okay? Another guy."
The lawmaker tried to explain that he can't speak specifically on cases he is not familiar with, but that after having conferred with multiple victims' rights groups and the state's attorneys, he can safely say "We know what's in Colorado's best interest," and passing Jessica's Law is not part of that.
While the interview was heavily edited (as these Watters ambushes tend to be), Ferrandino did manage to also get in a word about how Colorado's laws are "tougher" than Jessica's Law's 25-year minimum. One state official told the Denver Post that Colorado's sentencing laws "already go beyond what Jessica's Law mandates."
Ferrandino noted that the legislature has heard from a variety of law enforcement and criminal justice officials on the matter, and there seems to be unity that Jessica's Law is unnecessary. Indeed, the Colorado District Attorneys' Council, the Colorado Coalition Against Sexual Assault, and the Colorado Office of the Public Defender all agree that the law isn't needed. In addition, an expert from the conservative Independence Institute — which has been critical of both Democratic-proposed gun control measures and the Republican's "Jessica's Law "– told the Post that it does not represent a "constructive step toward public safety."
Watters, of course, was not having it, and so he accused Ferrandino of thinking he's "smarter" than the 44 other states who've passed the law.
After the Watters video ended and O'Reilly discussed the story with Colorado radio host Michael Brown (a.k.a. Bush's "Brownie"), the Fox host tried to amplify the outrage by suggesting Ferrandino is busy being a "big gay marriage guy" and a "big marijuana legalizer" while willfully "protecting child molesters" by not passing Jessica's Law.
Watch below, via Fox:
— —
>> Follow Andrew Kirell (@AndrewKirell) on Twitter
Have a tip we should know? tips@mediaite.com