Orlando Sentinel Reports George Zimmerman Claim That Trayvon Martin Circled His SUV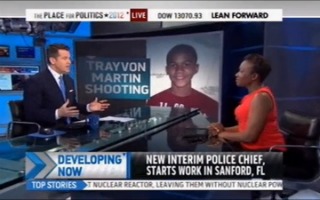 There are a couple of updates to report today in the ongoing case involving the shooting death of Florida teen Trayvon Martin. First, Richard Myers is stepping in to replace Bill Lee as the Police Chief of Sanford, Florida — the town where Martin was killed in February following an alleged altercation with volunteer neighborhood watchman George Zimmerman. And, secondly, the Orlando Sentinel is reporting that Zimmerman is claiming Martin had circled his SUV the night of the shooting, making him afraid for his own life.
RELATED: George Zimmerman Released From Sanford, Florida Jail On Bond Sunday Night
MSNBC's Thomas Roberts brought The Grio managing editor Joy-Ann Reid onto his show to discuss these further.
Lee, she explained, technically remains on paid leave, meaning that Sanford is now essentially paying two people for the same position — a position that pays approximately $10,000 a month. This is because the city initially rejected the terms Lee had asked for upon giving his resignation, specifically the severance package for which he'd asked.
Moving on the Orlando Sentinel's story, Reid explained that "a source close to the investigation" shared that Zimmerman is claiming he was in fear of Martin because the teen had been circling his SUV. Reid pointed out that Zimmerman had not mentioned this in his 911 call from that night. Indeed, she added, there was no indication that he'd been calling from inside his car since he'd been "huffing and puffing" on the phone, as if out of breath from walking or running "to follow Trayvon Martin."
Here's a portion of the Orlando Sentinel's report:
The source said Zimmerman's account of events hasn't changed in his several statements to police — in which he said he was so unnerved by the teen's behavior that he rolled up his window to avoid a confrontation. However, he never mentioned any of that while talking to the dispatcher.

The details revealed by the source provide new insight into what Zimmerman said happened in the earliest moments of his contact with Trayvon. And they may reveal the inconsistencies alluded to by prosecutors in the case.

One of those inconsistencies: Zimmerman told police Trayvon had his hand over Zimmerman's mouth during their fight on the night he shot Trayvon.

The Sentinel's source confirmed that Zimmerman's statements include that allegation. But authorities do not believe that happened, the source told the Sentinel, because on one 911 call, someone can be heard screaming for help. If it were Zimmerman, as he claims, his cries were not muffled, the source said.
Have a look at MSNBC's segment, below:
Have a tip we should know? tips@mediaite.com