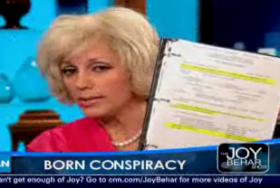 Why do people keep letting crazy Birther lady Orly Taitz on their TV shows? Maybe because she's Rod Blagojevich say-anything kee-razy with a head of hair to match?
Joy Behar's show is new, and everyone needs the buzz, so there you have it: Orly Taitz was on Joy Behar last night, accusing President Barack Obama of "massive fraud" and waving around some highlighted binder like Betsy McCaughey about to sing Happy Birthday to the President. Apparently Taitz has a court date? In California? Questioning Obama's birth? Because as an Israeli that makes perfect sense. Also, she's a dentist.
Per Taitz: "This judge stated, this is a legitimate issue, and it's important for the whole country, important for military." Actually, California Judge David O. Carter set a tentative court date before ruling on a motion to dismiss. Taitz and co-complainant Gary Kreep (seriously) have yet to even prove that Judge Carter has jurisdiction to hear the case. Carter also admonished them to stop having their supporters call him to leave crazy messages: "You should know I'm not accepting those phone calls. They're going to an answering machine and a secretary is deleting them," Carter said.
Meanwhile, Taitz was fined $20,000 yesterday by U.S. District Court Judge Clay Land for filing "frivolous" lawsuits. So those legal chances are looking good.
It's a nice, long clip — great facetime for Taitz — but Behar does a nice job of being the reasonable foil, offering facts and logic and then sitting back and letting Taitz's crazy do the talking. Do we need more Orly Taitz on the airwaves? Should Behar be giving this loopy-loon a platform? Will Lou Dobbs take this as a sign that he can have her on, too? Who knows — it's cable, and this is good TV. You can't tear your eyes away from Orly Taitz. Which is why we all know her name, despite the ludicrousness of her claim.


Also on Joy Behar last night — Lynda Carter (Wonder Woman! Also, presumably no relation to Judge David O. Carter) and Alicia Silverstone, who taught me that the word "diet" actually means "daily journey." Hm.
Have a tip we should know? tips@mediaite.com