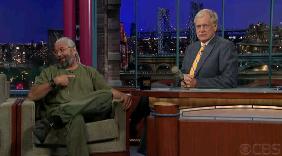 Osama bin Laden hunter Gary Brooks Faulkner continued his media blitz with an appearance on CBS' Late Show with David Letterman last night.
He seemed more ready to laugh at the ridiculousness of it all than he was yesterday on The View – but does that make it any better, since he still plans to return to the region?
Before he got arrested, according to Faulkner, he had at least eight previous attempts to find bin Laden, although during many previous attempts he was stopped long before he made it to the Middle East. For example, one time, he tried to leave from the San Diego harbor. Asked Letterman: how would he get to Pakistan? "The route is really kind of like, you just head in a direction, and then you eventually hit land, and then from there you go from there," he said.
But the main topic Letterman wanted to clear up was what he was doing there in the first place. "This right here is only the form to let the world know that two heavyweights are ready to fight, and we're going to see who's standing at the end of this program," said Faulkner. (He's referring to himself and bin Laden.)
Again, this is all happening because of his new publicist, Glenn Selig, who, besides Blago and Mrs. Blago, also represents accused murderer Drew Peterson. Remember him? He also had a brief publicity tour, although he didn't get the chance to do Letterman.
Quick question: is Gary Brooks Faulkner single? He needs a high-profile Hilton/Kardashian-type girlfriend in order to continue this celebrity push.
Here's part of the interview:


—–
» Follow Steve Krakauer on Twitter
Have a tip we should know? tips@mediaite.com