Oscar Organizers Deny They Banned Sacha Baron Cohen From Doing Anything 'Entertaining'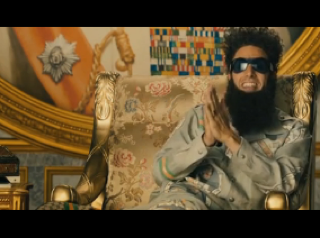 Actor Sacha Baron Cohen was geared up to go to the Oscars this weekend as the film he starred in this year, Martin Scorcese's Hugo, was nominated for several Academy Awards. But not, a report has surfaced that the Academy is revoking Baron Cohen's ticket to the Oscars because he has threatened to show up dressed as his new character "The Dictator," a Qaddafi-esque Middle Eastern tyrant, one the Academy denies.
RELATED: Trailer For Sacha Baron Cohen's The Dictator, In Which He Plays A Gaddafi-Like Ruler, Looks Amazing
The report surfaced after the Academy gave an explicit warning to Baron Cohen to not get any funny ideas. From The Guardian:
US reports suggest that Baron Cohen is planning some sort of stunt in an echo of his appearance at the MTV Movie awards in 2009, where he was lowered bottom first onto an apparently shocked Eminem (the rapper was later revealed to be in on the joke) while dressed as flamboyantly gay Austrian fashionista Brüno. However, a spokesperson for the Academy of Motion Picture Arts and Sciences told Deadline: "We would hope that every studio knows that this is a bad idea. The red carpet is not about stunting."
But before you crown that the party-poopingest comment by a PR drone in the history of Hollywood, there is today's report from Deadline, which can be attributed to "an insider" who came up with the worst possible way to explain the menace of having Sacha Baron Cohen have his way with the Oscars: "Unless they're assured that nothing entertaining is going to happen on the Red Carpet, the Academy is not admitting Sacha Baron Cohen to the show." Yes, Heavens forbid an award show ever has any "entertaining" elements to it! If anything is sacred in this country, it's an award show's right to be interminable and unwatchable (unless Ricky Gervais is around, of course. Then it's also uncomfortable!).
Of course, this is an unconfirmed report from an "insider," who for all we know could just be a Baron Cohen affiliate drumming up intrigue for the stunt in question. After all, now that we have an inkling that the undisclosed plan was too "entertaining" for the Oscars, doesn't that element of mystery make whatever the stunt was sound all the more intriguing? And the Academy is giving us more reason to believe this may be the case. From The Hollywood Reporter:
THR's story prompted the Academy to notify Cohen's reps and Paramount, the studio behind both Hugo and Dictator, that it would like to know exactly what Cohen has planned. "We don't think it's appropriate," the Academy spokesman tells THR of the prospect of Cohen "hijacking" the red carpet to plug his movie. "But his tickets haven't been pulled. We're waiting to hear back."
Have a tip we should know? tips@mediaite.com