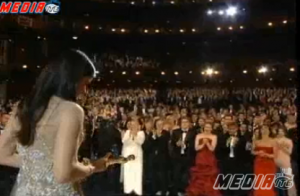 So maybe you didn't love The Blind Side (you hard-hearted cynic). Maybe you thought that Meryl Streep should actually win some of her nominations. Maybe you (like me), loved An Education and were blown away by little Carey Mulligan, or maybe you, like Oprah, were blown away by Gabourey Sidibe in a powerful, important story. Or maybe you, like the rest of the world, are perpetually hot for Helen Mirren. Whatever — none of that could possibly matter after seeing Sandra Bullock give such a funny, humble, touching, and real acceptance speech last night after winning the Academy Award for Best Actress. HOW CAN YOU NOT LOVE HER. That's a question that morphed into a command, because after last night, loving Sandra Bullock is not an option.
She gave glowing, personal due to her fellow nominees, she thanked mothers everywhere, she professed her undying love for Meryl, she the hard work and discipline that goes into being an artist, she choked up thanking her own mother and she used her global stage to remind the world that that there's no race, no religion, no class system, no color, no sexual orientation that makes us better than anyone else. We are all deserving of love." What a beautiful, perfect, real Best Actress speech.


A note: Sandra Bullock is also a trailblazing actress: the first to win both an Oscar and a Razzie in the same year! Bullock won the Razzie for Worst Actress for the forgettable and awkward All About Steve. Also, nerds, don't forget: she starred in The 'Net.
Here's a link to Bullock's equally charming Razzie speech — she had said on Charlie Rose that oh yes, she'd show up if she won, and indeed she did.
Have a tip we should know? [email protected]