Ouch! Nancy Pelosi Hits Gingrich Again: 'Plenty Of Stiff Competition' For 'The Dumbest Thing He Ever Did'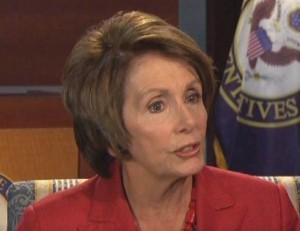 For the past few months of the presidential campaign, Newt Gingrich has bemoaned the infamous climate change ad that he filmed with Nancy Pelosi as one of the dumbest things he's done in his political career. He continues to do so, despite the many attack ads against him specifically targeting it. But on CNN's State of the Union today, Pelosi hinted from her time working with her former Republican colleague that it might have some competition with other things Newt has done over the course of his career.
Candy Crowley brought up the ad, hoping to get Pelosi to expand on her comments last month that when the time is right, she would dish some dirt on Gingrich acquired from being on a committee that investigated him in the 90s. When Crowley reminded Pelosi of her comments, Pelosi insisted what she meant was for people to read Gingrich's public record during his time in office. She did not say whether or not anything in his record was a disqualifying factor to becoming the president, however.
But Pelosi didn't let Gingrich get away so easily, getting in this quick swipe at him:
"Since you brought up my name in association with him as the dumbest thing he ever did, I think there's plenty of stiff competition for that honor as far as his activities are concerned."
In the first part of the interview, Pelosi alleged that Gingrich was fined $300,000 by the House Ethics Committee. Later on in the show, Crowley gave Gingrich's response to the charge, with the candidate claiming the money was paid to reimburse the cost of the House investigation.
Watch the video below, courtesy of CNN:
And watch Crowley read Gingrich's response here:
Have a tip we should know? tips@mediaite.com
Josh Feldman - Senior Editor