'Our Enemies Are Killing Each Other': Fox Military Analysts Battle O'Reilly Over Syria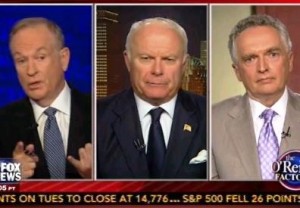 Bill O'Reilly has expressed his adamant support for the United States getting involved in Syria, going so far as to call opponents of such measures "loons," but it appears that two of Fox News' own military analysts fall squarely in O'Reilly's "loon" box. Lt. Col. Ralph Peters and Col. David Hunt both told O'Reilly there are still too many uncertainties, like whether the chemical weapons were really used by the Assad regime or if, in fact, they were used by the rebels.
Peters told O'Reilly the U.S. cannot be "helping al-Qaeda" in the name of responding to a brutal "murderer" in charge, saying there are two sides to pick from: a "despicable… monster" with an army behind him, or "the team that brought you 9/11." In other words, "our enemies are killing each other." He claimed that President Obama only wants to send in missiles to redeem his "personal image," but O'Reilly insisted this is a humanitarian issue and letting Assad get away with using chemical weapons would be a dangerous precedent.
Hunt piped up to say it's not been one hundred percent confirmed that chemical weapons have been used, let alone which side used them. O'Reilly told the two men they sound like the people who argued against U.S. involvement in World War II.
Peters shot back that O'Reilly's "absolutely wrong," likening the present situation to Hitler fighting the Japanese and making the U.S. choose sides. When O'Reilly said the WMD threat makes Syria as big a threat now as Iraq was when the U.S. intervened, Peters asked, "You want to do that again?"
O'Reilly charged that the two men just don't trust the government. Hunt maintained it would be wrong for the U.S. to get involved in its "third war in twelve years," while Peters said he trusts the government, just not "Obama's military judgment."
Watch the video below, via Fox News:
—–
Follow Josh Feldman on Twitter: @feldmaniac
Have a tip we should know? tips@mediaite.com
Josh Feldman - Senior Editor