'Our Government Does Not Care About Us': Mother Of Benghazi Victim Blasts White House With Jake Tapper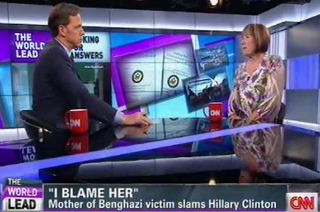 After Wednesday's congressional hearings into the administration's response to the attack on an American consulate in Benghazi, CNN host Jake Tapper invited Pat Smith, mother of a slain diplomat who lost his life in the attack, back on his program. Prior to the hearings, Smith told Tapper that she blamed former Secretary of State Hillary Clinton for what she felt was an insufficient explanation for why her son died in Libya. On Thursday, Smith said that she was also unsatisfied by the yesterday's congressional hearings. She declared that the federal government "doesn't care" about her.

Tapper began by recalling how New York Times columnist Maureen Dowd described the anguish of Cindy Sheehan, mother of a soldier who died in the line of duty in Iraq, as the leading indicator of a presidency "unraveling." He asked how Smith's anguish over the loss of her son in Benghazi is any less politically relevant.
When asked if she got the answers she was looking for out of Wednesday's congressional hearings, Smith curtly replied "no."
RELATED: On CNN, Mother Of Slain Benghazi Victim Excoriates Hillary Clinton: 'I Blame Her'
"I got a lot of answers, but not the ones that I really wanted," Smith replied. "I want to know why there was no security there and the security that was there got pulled, and who is the one who told the military to stand down, basically."
"There was people that could help, but they were told to stand down," Smith declared. "And I want to know why. Who had the guts to say that to our people?"
Tapper asked if anyone from the White House or the State Department had reached out to her since their last interview. Smith said that no one had contacted her.
Tapper informed her that the Accountability Review Board exonerated the government, noting that military assets were not positioned to aid those under assault in a Benghazi safe house that night. "They're the military," Smith replied. "That's their job. My son was doing his job. They were not helped."
Smith said that she spoke to her son the day he died who told her he was worried about individuals he saw taking pictures of the Benghazi consulate. "He said he reported it and they didn't care," Smith said. "Our government does not care about us. They don't care about us at all. They just care about saving their own butts and covering their souls, or whatever it is."
"I wish you had gotten answers," Tapper offered after a prolonged pause.
"So do I," Smith answered. She said that she was promised answers by members of Obama's administration, but has received none. "They don't care. I'm not important to them," Smith said.
Watch the clip below via CNN:
> >Follow Noah Rothman (@NoahCRothman) on Twitter
Have a tip we should know? [email protected]