Out Of Bounds: MSNBC's Thomas Roberts Attacks GOP'er's Teen Kid For 'Racist Crap' That 'Trickles Down' From Dad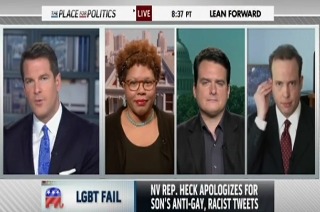 Straight news segments on MSNBC are not what they used to be. Unless, of course, indicting Republican lawmakers over the insensitive or incendiary behavior of their children is what you would consider responsible broadcasting. At least this segment was consistent and, in the effort to imply that the irresponsible behavior of some lawmakers' children is reflective of their parents' unexpressed sentiments, they did not conveniently and intentionally ignore breaking news regarding the criminal behavior of the offspring of a Democratic lawmaker… oh, wait. Actually, they did.

This segment on MSNBC began with anchor Thomas Roberts citing a BuzzFeed report on Sen. Jeff Flake's (R-AZ) high school-aged son, Tanner Flake, 15, who recently sent out an angry tweet at a person who stole his bike in which he used the word "faggot." BuzzFeed investigated Flake and discovered that he had previously made anti-Semitic and racist remarks in the past in a semi-anonymous online gaming community.
Roberts linked this episode to another in which the 16-year-old son of Rep. Joe Heck (R-NV) was caught using insensitive and racially inflammatory language on his Twitter account.
Vile behavior, indeed. But it is the behavior of children.
"It seems as if young kids are — on the right anyway, and all around for that matter – they're going to do silly things," Roberts said. "But are we seeing, Cheryl, and entrenched homophobia on the right?"
So, let's translate: kids on the right… oh, I mean, all kids, not just those of members of a political party with which I clearly disagree (phew!)… are they mirroring their parent's virtually undetectable prejudice in a more easily recognized fashion?
Roberts almost manages to navigate his way out of a shockingly blanketed premise – oddly, amid a segment decrying generalizations that people prejudiced against gays or lesbians often make – but he quickly circles back and digs a deeper hole.
"Everything kind of trickles down," Roberts continued. "You would think [Washington D.C.'s Republican parents] having a better effect on their kids to be more accepting and tolerant in society."
"Now I'm learning Tanner Flake's Twitter account has been locked," he added. "So, if he's going to be tweeting that stuff anymore, maybe it's just going to go to the people that want to hear it. But I find it so funny that they've locked his account now so you can't see the homophobic, misogynistic, or the racist crap that this kid wants to put out."
Conveniently unmentioned in this segment on the inappropriate behavior of the progeny of American lawmakers was the news that broke yesterday regarding Sen. Mary Landrieu's (D-LA) 21-year-old son. Frank Connor Snellings was arrested on Thursday for driving intoxicated, hit-and-run driving, and driving the wrong way down a one-way street – in downtown New Orleans no less.
By Roberts' clouded logic, this must mean that Sen. Landrieu's behavior "trickled down" to her son. I suppose Roberts must consider the Louisiana Democrat a drunk with a habit of casually putting the lives of innocent people in danger.
Of course, this a patently nonsensical position to take. If a conservative broadcaster on another network had made this charge it would be considered slanderous, or, at the very least, irresponsible.
This is truly shameful behavior made worse by the complacent silence of the guests on this block of programming. Sadly, though, it is not surprising.
Watch the clip below via MSNBC:
> >Follow Noah Rothman (@NoahCRothman) on Twitter
Have a tip we should know? tips@mediaite.com