Outnumbered Hosts Talk to Mediaite About the Show's Successes and Controversies in Its First 100 Episodes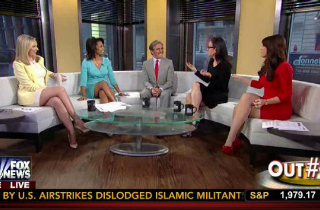 As Tuesday afternoon marks the 100th episode of Fox News' newest program Outnumbered, Mediaite spoke with the show's two main hosts: Fox reporting vet Harris Faulkner and Fox Business Network reporter Sandra Smith.
While those two are daily fixtures on the left side of a five-person couch, the show famously features a rotating panel of female pundits like Fox hosts Kimberly Guilfoyle, Andrea Tantaros, Kennedy, Ainsley Earhardt, and contributors like Jedediah Bila, Kirsten Powers, and Stacey Dash.
The show also includes one male every day, designated as the "#OneLuckyGuy" slot, often filled by familiar Fox faces like Geraldo Rivera, Tucker Carlson, Eric Bolling, Keith Ablow, and Brian Kilmeade.
In its first 100 episodes, the show has delivered a ratings success to the network, beating both MSNBC and CNN in the noon hour while often delivering more than 1 million in total viewers. Of course, the show has not been without controversy, as we at Mediaite have covered more than a few outrageous moments. But as you'll hear from the hosts, that's all part of Outnumbered's aim to get a conversation going during the middle of the day.
Read below (in two pages) for Faulkner and Smith's discussion with Mediaite about the show's successes, controversies, and hopes for the future after 100 episodes:
—
Take us through the genesis of Outnumbered.
FAULKNER: Traditionally, at least in the last few years, our news hours during the day have all looked similar. You'd have a few of our best anchors, with normal headlines. [Fox News CEO] Roger Ailes looked at our daytime programming and said we're #1 but we should grow that in terms of social media, and other methods. So he split up Happening Now's two hours, and put [Outnumbered] right in the middle of that, with the intention of airing something different.
SMITH: It's right in the middle of the news day on east coast, and for the west coast it's morning show hours. The idea was that by that time of day, people have digested the news, so we want to break up the day. We've got this panel ensemble show, with four women, and "one lucky guy" who is kept a surprise until airing. We wanted the show to be surprising, as in you'll never know what you're going to get. The aim is to take the hardest news of the day and take a different angles on it, because, at that time of day, people know the news already, so now they want to hear perspectives.
FAULKNER: The show also continues with what we know works: We have strong talented women, so [Ailes] knew that would be a component. But he wanted us to be nimble enough to handle serious news, and breaking news. He wanted to bring in the voice of the business side in Sandra, and then we would also have those great political minds in the building to fill out the panel.
On top of that, [Ailes] still wanted to go one better and make it something completely different with the "#oneluckyguy" concept. It doesn't make gender the focal point, but it does mean that it can come up in the conversation. As we know from the news business, topics break out in political ways, but there are gender lines too. The interesting thing about our show is that you never know who will fall down which gender-thinking lines. Personalities bring out differences in people.
There does seem to be an emphasis on gender-related topics. How do you pick the topics for each day?
SMITH: We are all pitching the next day's show the second the show ends. Every person at that roundtable is responsible for pitching stories for the next day. We look for stories in every part of the world to discuss the next day; we look for stories that are less on people's radar; stories that people haven't necessarily heard.
FAULKNER: The stories are just sort of out there, and we have four women, so things sometimes fall along gender lines. But you can't run away from the big headlines. Most people don't want to take a break from watching TV to find out what's going on. So we give them that, but with surprising angles.
We don't necessarily pick stories along gender lines. The focus of one recent show was on ISIS, those bloodthirsty savages that beheaded two American journalists. There isn't really a gender component there. But then another interesting part of that story is how there are a lot of women who are at the heart of the ISIS surge, who are victims of executions, forced marriages, and other cruelties. The gender element is just one of many elements to the conversation.
Do you find that you get the most feedback from female viewers though, seeing as the hosts are mostly women?
SMITH: You'd think we'd have a female audience, but men tell us they love it. We've been told it gives men an insight to the women's mind.
Let's face it: Men and women are very different. We are just different. We look at the news differently, we think about things differently. And our show doesn't ignore that fact; we embrace it. But the surprise element here is that it's not really about our gender, it's how each of us reacts to different stories.
Watching me, you know you're not going to get predictable views — I don't stick to one political ideology or one gender-oriented assumption. So having a robust cast really plays a role in that sense. I pride myself on bringing facts, figures, quotes from leaders, economists, to bring a rich element to the show. I don't stick to a gender assumption.
And with the "one lucky guy," the idea isn't to pick on the male guest, it's really just to bring in multiple perspectives.
Speaking of the "one lucky guy," let's face it: They often say outrageous things (for instance: Keith Ablow's many cringeworthy moments). As the main hosts, you two are usually first to put your foot down and call him out. But do you fear those controversial moments distract from smart things the show might have to say?
SMITH: Not really. We don't just bring any guy. He has to be someone who's proven himself in his field. These are established people in their own right. They are their own person. We are responsible for shedding light on stories people care about, that people want insight or perspective on. People can get the story from the internet, but they want perspective.
However, I have no problem reigning it back in, when needed. When Ablow said all that stuff about the First Lady's weight, I had no problem telling him, "You might want to think twice the next time you come on this show and voice that criticism."
We're still a news program. During the big breaking news, if you've noticed, we still roll the show. We will carry that breaking news through our hour. Harris and I hold that down. We are as much a news show as a talk show.
FAULKNER: I don't fear anything that gets people talking.
But speaking of Ablow: I've stood next to Michelle Obama at those White House Correspondents' Dinners, and if she's fat, then so am I. I said that to him, and he said, "Well?" I said "What!" He shared that he himself sits down with psychiatrist each week, and I suggested that he not miss a meeting.
I think that those kinds of comments, if you're on toes, can elicit the conversation that people at home hope you'd have. It can lead to fun discussions, it can lead tough discussions. We recently brought up with Montel Williams that terrorism may already be on our shores, and the reality is that we need to know. He and Andrea [Tantaros] went back and forth and you've got me in the middle of that, and sometimes you just need to let it happen. There's some interesting moments. smart conversation, but tough conversations. My role is to make sure the proper questions are asked, that you don't just have one person grandstanding.
Actress Julianna Margulies said in her Emmy speech: "What a wonderful time for women on television." Does it feel like that's true for cable news?
FAULKNER: On a show with four women, you bet. It doesn't get much more wonderful than what's happening on Outnumbered today. You've got to know your stuff if you're going to sit on the couch. Margulies might've meant that it isn't about being female anymore. There's now a place at the table for everybody, and let the cream rise to the top. Check the box that counts: Are you a winner?
SMITH: It's a wonderful time for anybody who establishes credibility, trust in viewers, and builds audiences, male or female. This focus on gender, I don't know, I don't buy into it. I think the best person and the best team is always going to win. I think we've put forth a team that has all the power and opportunity to win.
>> READ ON TO NEXT PAGE: Outnumbered Hosts Dismiss "Fox Blonde" Criticisms; Talk About Beating MSNBC And CNN; And Who Their Dream Panelist Would Be
Have a tip we should know? tips@mediaite.com