Over At The Dude Ranch: Imus Bids Good-Bye To Charles McCord, Turns Focus To Helping Kids With Cancer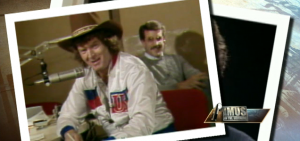 Radio and TV personality Don Imus has a lot on his plate right now. After 48 years of being on air, Imus' longtime WABC radio and Fox Business Network "wingman," Charles McCord, has decided to mosey on away. (Yeah, there are going to be cowboy mentions in this post. You're just going to have to deal with that.) It'd be an emotional and nerve-wrecking time for anyone, but Imus also has to contend with whispers about his ratings. The Daily News, however, pointed out last month that that his TV numbers are "down from last year, according to Nielsen," Imus "has remained in the ballpark with CNBC, which is Fox Business' main rival and is available in twice as many homes." In addition, Imus on the Morning has expanded to 84 radio stations across the country, with recently added affiliates including WQSC Charleston, WJMX Myrtle Beach, and WGVA Rochester. The show has also finished among the top 5 (Arbitron, Adults 12+ in New York) and top 10 for adults aged 25-54.
On Friday, Imus issued a heartfelt send-off to McCord. Check it out, courtesy of Fox Business News. A warning: Cowboy hats are definitely involved. As is talk of urinary tract defects.
Imus has also kept busy with his 22nd annual Radiothon, raising money and awareness for the Imus Ranch for Kids With Cancer, the Tomorrows Children's Fund and the CJ Foundation for SIDS. The Imus Ranch, for those who don't know, is a working cattle ranch near Ribera, New Mexico, that provides kids with various forms of cancer and blood disorders or who have lost siblings to Sudden Infant Death Syndrome with a chance to, basically, live like cowboys and cowgirls.
If you're interested in helping out any of these fine charities, be aware that "Bidding For Good" has teamed up with Imus for an online auction going on through May 10th. By participating in the auction, you have the chance to bid on items such as: a baseball signed by Pete Rose and Paul Hornung, an Imus Ranch Gibson guitar signed by Imus, and to tickets to a concert by country star Keith Urban. You can check out the items up for auction right on over here.
And here's Imus discussing the Radiothon during his final show with McCord. Double aww!

Have a tip we should know? tips@mediaite.com