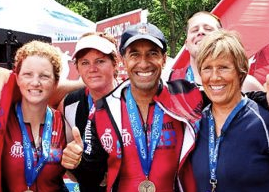 Hasn't Dr. Sanjay Gupta got enough on his plate with becoming a triathlete? I mean, c'mon, man. This week, he's been doing fill-in duty for Anderson Cooper on AC360. He's also CNN's chief medical correspondent, with trips around the world–and notably, doing extensive work on the ground in Haiti after the earthquake. He's also, you know, not for nothing, but a neurosurgeon and he teaches at Emory University (one of the world's finest institutions of higher learning, IMHO).

And outside work–when, exactly, would "outside work" be, Sanjay?–he's a father of three and–according to Triathlete magazine, he's "a humanitarian, a superman, a pop culture icon, and one of the sexiest men alive." Geez, Triathlete, that's going to go to his head you know.
But sure enough, he's written up in the current issue of Triathlete for his work with the "Fit Nation Triathlon Challenge," which brought together six CNN viewers who wanted to get healthy and fit. Gupta helped them devise a six-month training program (choosing the multi-sport triathlon over the running-only marathon) and competing with them in the Nautica New York City Triathlon:
"As a doctor, I'm always thinking of ways I can walk the walk," Gupta explains. "I was thining of getting a group of people who were representative of these problems–people who're trying to make a change in their lives, physically, emotionally, diet-wise–and give those people the tools to change, and use their stories to engage our audience."
Is Sanjay Gupta angling for an award at next year's CNN: HEROES, perhaps?
According to the New York Daily News, Gupta's no slouch as a triathlete, finishing New York in 3:14 (which I was going to point out is somewhat slower than my time in the same race–that is, until I found out that Gupta–being a robo-hero–suspended his race briefly to render medical aid to a cyclist who'd crashed on the course. Aaaaargh!).
You rock, Sir.
Have a tip we should know? tips@mediaite.com