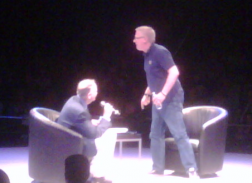 This past weekend the Bill O'Reilly/Glenn Beck sold-out 'Bold Fresh' tour made a stop in Long Island. I'm not sure how many people associate Glenn Beck's fan base with New York State, but considering cars were lined up all the way from the highway exit to the Westbury Theater I think it's safe to say he and O'Reilly (a native of Long Island) don't do too badly here.
Perhaps what was most surprising about the show was not what either Beck or O'Reilly had to say; certainly fans of Beck would recognize his half hour monologue as a somewhat livelier, funnier version of the how he opens his show. What was most surprising was that every single conversation I overheard, be it in the concession line, the bathroom line, or in the theater itself had to do with politics. It was a bit like being in one of Beck's hand-picked studio audiences but writ large. And to be clear, O'Reilly may have been the native son here, and technically the headliner, but it was fairly apparent from the conversations I heard, and the general response of the audience (the best way I can think to describe it is 'political evangelism'), most people were there for Beck.
Anyway, should you not have the chance to be fresh and/or bold for yourself here's a little taste of what the experience sounds like (based solely on what I overheard).
Couple seated in the row below me.

— Did you see Obama on the View?
— [Scowling] Yes, God he just went on and on.
— I heard the other day he could raise money if he promised to stop talking.

Couple seated behind me.

— Do you think there are any people here that are not fans?
— No I doubt it. Not with the price of these tickets.
— They'd have to behave anyway, or security would toss them out quick.

Overheard in the lobby during intermission.

— I come home every day and feed the cats and then turn on Beck. I'm able to catch most of him.
— Is that why I don't get my dinner til 7:30?

Also in the lobby:

— O'Reilly used to do that sort of fluff on Inside Edition.



A few other notes on the audience. Everyone was very friendly. The majority of the crowd was between 35-60 and white (I didn't see one African American there). Every time either Beck or O'Reilly mentioned a media organization (other than Fox) the entire room booed very loudly (this was not a crowd timid with the holler-back). Also, merely as a point of interest, the crowd favorite for the 2012 GOP nomination appeared to be Newt Gingrich. Though I did spot one woman sporting a Beck 2012 t-shirt which she informed me she'd purchased online.

Have a tip we should know? tips@mediaite.com