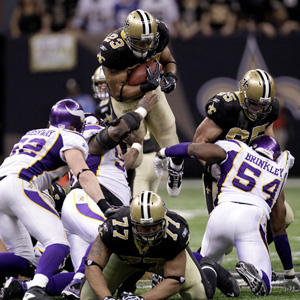 The overnight numbers are in, and last night's Vikings-Saints game is expected to be the most watched television program of any kind, excluding Super Bowls, since the series finale of Seinfeld. FOX's telecast of the NFC Championship game drew 57.9 million viewers, monster numbers that were fueled by the promise of a high-scoring game, interest surrounding Brett Favre's unretirement, and the galvanizing effect the Saints have had on New Orleans in the years following Hurricane Katrina. Evidence of the city's unwavering support of the team can be seen in the stunning 63.2 rating in the New Orleans market, the highest rating ever for any NFL telecast (including the Super Bowl).
Much of the country tuned in for last night's game, and there was no question where the most interesting place to watch it was. Bar None, the bar in Manhattan's East Village that just happens to be shared by Saints and Vikings fans, was a magnet for crazy people decked out in purple, black, and gold:
The Vikings took a 7-0 lead in the first quarter with Adrian Peterson's 19-yard touchdown run. Vikings fans responded with hugs and high-fives that sent beer splattering onto the bar. Someone blew loudly on a purple plastic horn.

The Saints tied the game later in the quarter when Pierre Thomas took a pass on the right side, weaved through six tacklers and crossed the goal line standing up on a 38-yard play. Howling fans hoisted open black umbrellas in celebration.
The Saints-Vikings matchup was the most-watched non-Super Bowl sporting event since the 1982 NFC Championship between the Cowboys and 49ers (68.7 million viewers). If you missed it last night, here's how the game ended:
Have a tip we should know? tips@mediaite.com