Paging Geraldo: Fox & Friends Fails to Identify Shooter at Predominantly Black School as 'White'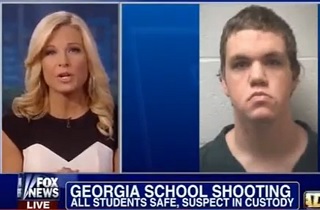 Just two weeks ago, Fox News' Geraldo Rivera expressed shock that news reports failed to identify the race of three black suspects in the beating of a white teenager, although he failed to explain why their race was important, or why he didn't just look up two inches to see the photograph featured in the report that he read. Imagine how shocked Geraldo will be when he learns that Fox And Friends similarly failed to identify the race of Michael Brandon Hill, the white male who opened fire in a predominantly black elementary school in Decatur, Georgia on Tuesday.
A few weeks ago, Geraldo Rivera called it a "wretched double standard" that the media did not identify the race of three black teenagers who beat a white 13 year-old, even though the report he referenced included a photo of all 3 of them, and even though there was a clearly-defined, non-racial motive in that story. According to police, the attack on the child occurred because the victim had informed school authorities that two of the suspects tried to sell him marijuana in a school bathroom, and the school did nothing to protect him.
In other news with a racially disparate victim/perpetrator relationship, 20 year-old white male Michael Brandon Hill walked into the Ronald E Mcnair Discovery Learning Academy in Decatur, Georgia, armed with an assault rifle. The Ronald McNair school's enrollment is 96.3% black. Fox And Friends failed to note either of these facts:
Like the school bus beating, there is no indication that Hill's actions were motivated by race, and according to the interview included in the report, with school clerk Antoinette Tuff, the shooter indicated that he "hadn't taken his medication."
For some reason, Geraldo still thought race was an important factor when the suspects were black, so unless he's employing some sort of wretched double-standard, he will surely excoriate Fox And Friends, and the rest of the media. According to the TV Eyes transcription database, no national news outlets identified the shooter as white, and only one local channel reported the suspect as a "white male," before his identity was known. If and when Geraldo does blast the media for this omission, my question will stand: why is this suspect's race so important to Geraldo?  The "double standard" he refers to involves the killing of Trayvon Martin, and I can, and have, explained why race was important in that case (as has George Zimmerman's defense attorney), and look forward to Geraldo doing the same.
[photo via screengrab]
Have a tip we should know? [email protected]