Paid CNN Trump Fan Calls Bakari Sellers 'Ignorant' For Calling Confederate Flag-Lovers Ignorant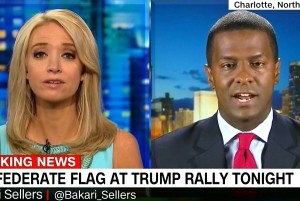 CNN has a diverse stable of paid contributors that includes several Donald Trump loyalists like Kayleigh McEnany, as well as contributors like former South Carolina state legislator Bakari Sellers, who supports Hillary Clinton. On Thursday night, the contrast between those two schools of thought was brilliantly illustrated when Sellers reacted to a Trump supporter who brought a Confederate flag to a Trump rally by calling him "ignorant," and McEnany responded by calling Sellers ignorant.
Anchor Don Lemon played a clip of Trump supporter Brandon Partin explaining that he didn't think Trump would mind the display of the Confederate flag, and pointing out that most Americans don't "understand the full history behind the flag."
McEnany began by explaining that she agreed the flag should have come down because it's offensive to "some people," then added that for "most people it doesn't symbolize racism," but rather "Southern pride."
Sellers then promised to give McEnany a talking to about the flag off-camera, and called Mr. Partin's reading of Confederate history "ignorant," which prompted a familiar charge from McEnany:
To call every person ignorant who has that flag, I think that is an ignorant statement in and of itself.
Sellers clarified that he was referring specifically to Brandon Partin's recounting of Civil War history.
Under intense public pressure, Republicans supported various measures to remove Confederate flags from public display after the racist terror attack on Mother Emanuel AME Church in Sellers' home state of South Carolina, but have since backpedaled on some of them. Trump himself supported the decision to put the flag that flew at the South Carolina state house "in a museum," but has received widespread support from pro-Confederate flag groups.
This is an opinion piece. The views expressed in this article are those of just the author.