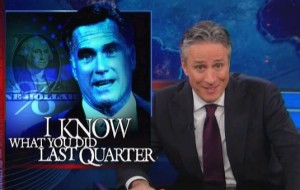 On Tuesday night's Daily Show, Jon Stewart lambasted Mitt Romney over the controversy brewing over the Republican hopeful's much-scrutinized tax returns. "Exciting news!" Stewart zinged. "Mitt Romney's 560 page 2010 tax return has been made public! It's an exciting topic that in no way needs zazzing up. So let's get right to it in tonight's segment!" Stewart then blasted up on the screen a chyron screaming 'Happy Clown Tax Jubilee!' "As you know, when it comes to if and when Mitt Romney would release his tax returns he has been nothing if not consistent."
Stewart then played archival footage of the former Massachusetts Governor saying, "I don't intend to release tax returns."
"Miiiiiiitttt!" Stewart scolded, and showed him finally coming around to releasing his tax returns immediately after much dithering.
"I'm never going to do it…I'll do it in April!" Stewart razzed. "Here they are! Until last night romney released the uicken.
RELATED: Republican Debate Audience Boos Mitt Romney Over Releasing Tax Returns
After finding out Romney's combined income came out to $56,986 a day, Stewart exploded in an incredulous rage.
"That's almost–that's almost $57,000 a day!" Stewart exclaimed. "Here is the most amazing part: the guy doesn't even have a job! That is f*cking interest! That is the kind of money that might lead a man to make stupidly extravagant out-of-touch impulse bets!"
Stewart then aired Romney's infamous $10,000 bet to Rick Perry.
"How in the world do you — Mitt Romney justify making more in one day than the median American family makes in a year while paying an effective tax rate of the guy who scans your shoes at the airport!" Stewart asked.
Watch the segment below via Comedy Central
Part 1:
Part 2:
Have a tip we should know? tips@mediaite.com