Pakistani Officials Claim NATO Helicopter Attack Responsible For Deaths Of Over Two Dozen Soldiers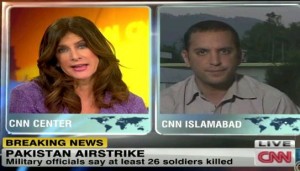 Pakistan is blaming NATO aircraft for gunning down roughly two dozen soldiers at two separate military posts near the Pakistan-Afghanistan border. President Asif Ali Zardari harshly condemned the attacks, and in retaliation Pakistan has closed off border crossings that were previously used by NATO forces to ship supplies to troops from Afghanistan.
General John Allen, commander of the International Security Assistance Force, issued a statement earlier today expressing his desire to see the matter fully investigated and to bring closure to the families of those who were killed.
"This incident has my highest personal attention and my commitment to thoroughly investigate it to determine the facts… My most sincere and personal heartfelt condolences go out to the families and loved ones of any members of Pakistan Security Forces who may have been killed or injured."
The ISAF release only refers to the matter as an "incident" and does not give any more detail beyond that, but the Pakistani army is claiming that 24 people were killed and 13 were injured during the strike. Prime Minister Yousaf Raza Gilani returned immediately from his vacation and convened a special session of of the cabinet defense committee.
This is only the latest tension between the United States and Pakistan in a year when the world's most wanted terrorist was finally found and killed in a Pakistani base not two miles from a military training facility. And incidents like these do not exactly ease those tensions and could lead to a more strained relationship between the two nations.
RELATED: The United States Increasingly Suspects Pakistan Aided Osama Bin Laden
Watch CNN's coverage of the incident below:
Have a tip we should know? tips@mediaite.com
Josh Feldman - Senior Editor