Paladino, Uh, Clarifies: Gay Pride Parade Speedo Grinding Is "A Terrible Thing"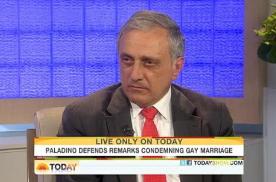 Carl Paladino, who's much more Alvin Greene than Christine O'Donnell in terms of pure ridiculousness, went on the Today show this morning to clarify his remarks over the weekend about how kids shouldn't be "brainwashed" into homosexuality.
His new position: He's a big supporter of gay people! His nephew is gay! But still, that Gay Pride parade where there's Speedo grinding is just disgusting.
Matt Lauer started the interview asking if he'd hire gay people to serve in his hypothetical administration, and Paladino said he would. (I say hypothetical because this disaster of a candidate has absolutely no chance to win.)
"My feelings on homosexuality are unequivocal," said Paladino, noting he has a gay nephew and gay workers. "I have absolutely no problem with it whatsoever. My only reservation is marriage." But that's actually not his only reservation: he also doesn't think little kids should be exposed to things like the Gay Pride parade.
"I don't know if you've ever been to one, but they wear these little Speedos and they grind against each other, and it's just a terrible thing," Paladino explained to Lauer. "Why would you bring your children to that?"
After blaming the press and implying the group of Orthodox Jews he was speaking to actually gave him the text of the speech to read to them, Paladino returned to that scary parade. "Mr. Cuomo took his daughters to a Gay Pride parade," he said of his opponent, Andrew Cuomo, who is going to win and propel Carl Paladino back into obscurity. "Is that normal?" Oh normal – in this campaign cycle, who even knows what's normal anymore?
> Update Paladino was on Don Imus' FBN show this morning, where he appeared along with a Paladino impersonator as well.
Here's the Today interview:


—–
» Follow Steve Krakauer on Twitter
Have a tip we should know? tips@mediaite.com