'Pale, Male And Stale': MSNBC Panel Mocks Mitt Romney's Return To National Stage With CPAC Speech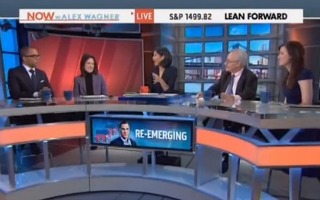 MSNBC's panel program Now celebrated the announcement that former Republican presidential nominee Mitt Romney plans to return to the national stage with a speech at the annual Conservative Political Action Conference with a round of mockery. The assembled panel guests said that Romney should spend his time either performing community service or simply lay low and enjoy his wealth, rather than waste his time with the "has-beens" at CPAC.

RELATED: The Art Of Trolling: MSNBC's Now Becomes The Network's Most Controversial Show
Washington Post columnist Jonathan Capehart was "mystified" that Romney would go speak before a group of conservatives, given the chronic problems he had appealing to the GOP's conservative wing during the presidential campaign.
"He's not getting very many invitations, obviously," said The Nation editor Katrina vanden Heuvel. "It's not just Mitt Romney. When you look at that lineup of those speaking at CPAC, you see a party in true disarray – discredited."
"Pale, male, and stale," vanden Heuvel added.
"That, to me, is almost more interesting than the return of a man who should just be going out and looting some more companies as he did in his career," vanden Heuvel concluded.
"The GOP has spent, really, the last four months trying to prove that they are not the party of the 53 percent – or that they are not the party of the elite," said host Alex Wagner. "The shadow of Romney actually looms quite large over the Republican party."
"The irony is that Mitt Romney, who had been the moderate politician in the past, actually stuck the party with the real problem – by going too far to the right on some of the most basic issue of equality and inequality," agreed Washington Post columnist E.J. Dionne.
"Self-deportation," Wagner added.
When asked if there was "anything Mitt Romney could do" to achieve rehabilitation after his failed presidential bid, Salon columnist Irin Carmon was unsure that there was.
"He seems to be flailing," Carmon noted. "I'm glad he's found more gainful employment than prank calling his neighbors and telling them the immigrant workers next door aren't working."
"He might consider public service – not on the order of, you know, hanging out with the has-beens at CPAC," Carmon concluded.
"He should just go work out, be a family man, and enjoy his wonderful wardrobe and car elevator," Wagner suggested.
Watch the segment below via MSNBC:
> >Follow Noah Rothman (@NoahCRothman) on Twitter
Have a tip we should know? tips@mediaite.com