Palestinian Org Head to CNN: Gazans Want Ceasefire That 'Addresses Real Problems'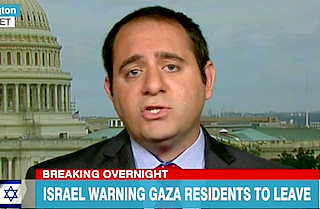 New Day host Kate Bolduan interviewed Yousef Munayyer, Executive Director of The Palestine Center, Wednesday morning about the kinda-sotsa-not really ceasefire yesterday that failed to stop the hostilities between Israel and Hamas. Munayyer said Palestinian organizations had not been consulted as to the terms of the ceasefire, and that any future attempt at a truce would have address Palestinian concerns more forthrightly.

"It was an agreement made between Israel and the Egyptians, but there was no consultation with the Palestinian factions in Gaza," Munayyer said. "So obviously that's not any serious way to get an agreement here. You have to have the parties involved in the hostilities actually aware of and consulted in the terms of the agreement."
RELATED: Netanyahu Vows 'Intensified' Strikes on Hamas After First Israeli Death
Munayyer also indicated that Palestinians had been snookered by past ceasefires that did little to relieve their hardships, or even Israel's attacks.
"[Gazans] don't want a ceasefire that repeats previous instances where the world turns the attention away from the Gaza Strip, and the siege of the Gaza Strip continues, and Israeli violations in the Gaza Strip continue," he said. "I think what they want is a ceasefire agreement that addresses the real problems that they face and the system of violence that is this siege, that is the occupation, so that it can be a genuine ceasefire agreement that brings an end to hostilities, not just from one side."
Over 200 Palestinians have been killed since Israel began firing on Gaza over one week ago; Hamas shelling has claimed one Israeli fatality so far.
Watch the clip below, via CNN:
[Image via screengrab]
——
>> Follow Evan McMurry (@evanmcmurry) on Twitter
Have a tip we should know? tips@mediaite.com