Palin Never Lived Up to Expectations on Fox; Network Break-Up Comes 2 Years Too Late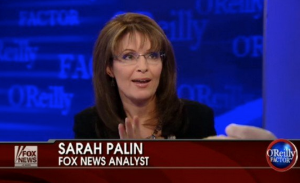 So the news comes today via Politico's Mike Allen that Fox News is parting ways with Sarah Palin. Total candor here: She's been used so sparingly in recent months, I didn't even know she was still under contract to this point.
To review, Palin was signed by Fox to much fanfare in 2010 and–after initially not renewing her deal in 2013–eventually signed her to a new contract that same year. In looking back, the Palin cable news thing never seemed to resonate, even with the rank and file. I interviewed her about two years ago, and while I found her to be exceptionally friendly and genuine off camera, her on-camera persona lacked punch. Her energy was surprisingly flat. Her answers oftentimes too long, too rehearsed.
Palin's best attribute is more of the spontaneous variety and revving up large crowds via red meat. Speeches are where she excelled in 2008, particularly the Republican National Convention when her prompter reportedly malfunctioned and she was forced to do much of her address off the cuff. She fed off people energy and vice-versa…on the stump, rope lines, didn't matter. Unfortunately for her and the network that hired her, all of those positives didn't translate over to her TV hits.
And that's something you'll notice whenever cable news is forced to do interviews from the interviewee's home: The energy is a little lower (a need to speak softer is a natural result as opposed to being in a studio) and the timing with the host/anchor always a bit off-kilter. Non-verbal cues are essential in interviews…the kind of cues one can only provide another when on-set (rolling fingers off-camera to speed up an answer, an IFB to inform the subject a commercial break is coming, etc). Remote interviews are obviously a no-choice situation, particularly in Palin's case–who conducted most of her Fox appearances from Alaska. But perhaps that played another small part as to why this ultimately didn't work…
So what's next for the 51-year-old? Perhaps a fundraising role in the RNC (she can still draw a crowd and put some dollars in the coffer). Maybe the struggling View on ABC could provide some kind of periodic role (not a good idea for the same reasons above).
Fox was right to sign her in 2010 given the obvious name recognition/brand name.
Re-signing her in 2013? Probably a regret.
— —
>> Follow Joe Concha on Twitter @JoeConchaTV
Have a tip we should know? tips@mediaite.com