Palin On Co-Hosting Today: 'It Wasn't Just A Coincidence' Katie Couric Co-Hosted GMA Same Day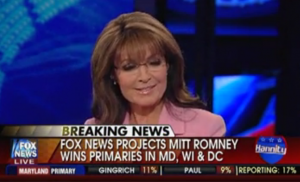 Appearing on Hannity Tuesday night, Sarah Palin took a minute to talk about how she liked co-hosting NBC's Today. Palin said she "had a blast" — adding that it wasn't a "coincidence" that Katie Couric happened to be co-hosting ABC's Good Morning America the same day.
Hannity asked Palin how she liked the gig, and she replied enthusiastically, saying, "It was a blast! Lots of energy, lots of chaos." She had TV experience, Hannity pointed out, from her time as an anchor in Alaska (Palin added, "Back in the stone age, yes.") — when she reported on sports.
"Did you know that Katie Couric was co-hosting on Good Morning America?" Hannity asked. Palin replied, "It wasn't just a coincidence." She added, "I'm not sure how it all came together, but I am one for good competition."
Fellow Fox News colleague Dana Perino asked what Palin was "really thinking" when Matt Lauer asked her the question about vetting a vice president based on experience. Palin replied, "I thought, well this could be worse, in fact I've had worse in interviews, you know, with questions like, what do you read up there in Alaska to stay connected with the real world — where you're rolling your eyes like, are you kidding me? Are you really asking me such a question?" Recalling the famous Katie Couric incident, Palin continued, "And my answer at the time was, everything, I read everything. And from there, you saw where that answer got me, right?"
Noting NBC was "a little bit nervous" with GMA inching closer in ratings, Hannity said, "it's funny that when they need an audience and they need their ratings to go up, they go to one of the strongest conservative voices in the country. I found that very fascinating."
Palin responded that they're "missing out." Commenting on Oprah Winfrey's struggle with her network OWN, Palin suggested Winfrey "bring some conservatives on." She added, "We are a center-right country […] we don't want to just be inundated with a message that does not resonate with patriotic conservatives in America."
Hannity asked Palin if, given an offer from Winfrey, she would be willing to have a show on OWN. Palin said there's "a lot of room out there for more conservative voices, diverse personalities out there who can talk about issues that really are affecting people's everyday lives in America."
Take a look, via Fox News:

Have a tip we should know? tips@mediaite.com