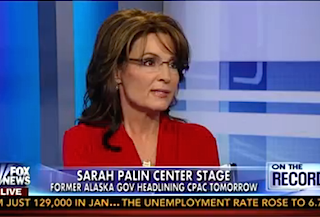 Ahead of her closing address at the Conservative Political Action Conference Saturday, Sarah Palin went on Fox News with Greta Van Susteren to preview what she plans to say to the conservative crowd. She promised an "optimistic" message that looks to this year's midterm elections as a positive opportunity for the right.
Palin argued that Obamacare does not need to be "fixed" but should be fully repealed, saying, "it needs to be killed now." She criticized the majority of Republicans for failing to defund the law. "They balked," she said, citing only Sen. Ted Cruz (R-TX) and a handful of others who "stood strong on what they had at their fingertips to defund."
Later, Palin weighed in the media's reluctance to give her credit for anticipating Vladimir Putin's move into Ukraine. Despite her current media tour, she said there will be "no victory lap" because "you don't interrupt someone when they are in the process of destroying their own credibility." Here's how Palin summed up the rest of her thoughts on the mainstream media:
"I don't like an unfair, biased media unless they declare that, of course they are biased, that they're opinion talkers. Those that are supposed to be journalists getting the who, what, when, where and why for the people to be able to decide themselves an issue? No, I don't like those who so interject their own opinion that they become very unfair."
Asked who's at the top of her list for possible 2016 Republican candidates, Palin mentioned Cruz and Sen. Rand Paul (R-KY) but also said it does not need to be someone currently in the public eye. As for herself, she said, "you never say never" but is making no moves in that direction at this time.
On the other hand, she said, if Americans "want a fighter, if they want someone who can can so respect our exceptionalism, everything that makes America great, the promise of America, and if we don't find that? Then I would run."
Watch video below, via Fox News:
[photo via screengrab]
— —
>> Follow Matt Wilstein (@TheMattWilstein) on Twitter
Have a tip we should know? tips@mediaite.com