Palin Rips Trump for Risking 'Huge Erosion' of Support With 'Wishy-Washy' Immigration Softening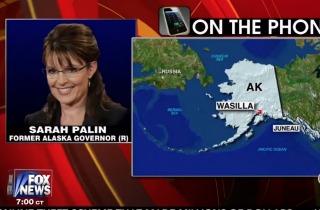 Ann Coulter's not the only one displeased with Donald Trump's recent move towards an immigration pivot. Sarah Palin talked with Eric Bolling Thursday night on The O'Reilly Factor, where she slammed him over what she has called a "wishy-washy" softening that won't do anything to help him.
"Donald Trump understands that enforcing the laws and building that wall are paramount to what the will of the people is," Palin said. "Candidate Trump didn't garner a lot of enthusiastic support by being soft on anything. Softening on the position of illegal immigration isn't going to win over any supporters."
Palin went on to say that Trump has to put a stop to the incentivizing of illegal immigration, but she said that as long as he doesn't back away from his border wall, there won't be a "huge erosion" in his support.
Bolling asked Palin about the possibility that Trump was easing off his hard line in order to appeal to undecided voters and Republicans who feel deeply alarmed by his platform. Palin felt that that would be a waste of time since those kinds of voters would never consider Trump anyway, and that he should just buckle down on his earlier stances even more.
"I would prefer politicians to not campaign one way and then govern another way," Palin said. "We want to know that they are candid and sincere in the policies that they are proposing as candidates and then once they are in that administration that they would stick to it."
Watch above, via Fox.
[Image via screengrab]
— —
>> Follow Ken Meyer (@KenMeyer91) on Twitter
Have a tip we should know? tips@mediaite.com