Palin: Romney/Ryan 'Need To Be Prepared' Because 'Obama Lapdogs Will Stop At Nothing'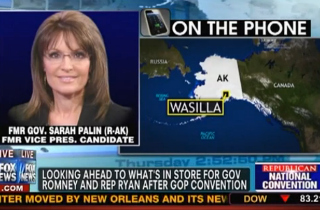 In her first appearance on Fox News since she took to Facebook to lament that all her convention hits had been canceled by the network, former Alaska Gov. Sarah Palin told Megyn Kelly blasted the "Obama lapdogs" in the media and praised VP nominee Paul Ryan for his Wednesday evening convention speech.
Palin began by saying that her race in 2008 with John McCain "got ugly because the Obama lapdogs will stop at nothing to make sure their chosen one is elected," and offered a warning that Mitt Romney and Ryan need to "be prepared" for when the media begins to "warp their reputation."
Kelly then brought up recently-fired Yahoo! News DC bureau chief David Chalian's hot-mic remarks that the Romneys are "happy to have a party when black people drown," asking Palin for her thoughts on whether this reflects the difficulties the Republican ticket will face in months ahead.
"Oh, yes, absolutely," the former governor said, "it's disgusting and that was racist," adding that she had her own run-in with Chalian in 2008 when he produced her infamous ABC News interview with Charlie Gibson — an interview which she claims was filled with "out-of-context" questions: "I have personal experience with that guy and I'm glad he got canned."
– RELATED: Fox News Responds To Sarah Palin's Facebook Post On Cancelled Fox Appearances
However, the former vice presidential candidate suggested the Republican Party should not get wrapped up in whether the media is biased against them: "We cannot underestimate the wisdom of people and be consumed with the unfairness of the progressive liberals in the media. We have to be focused on what the plan is to turn things around."
Asked for her thoughts on Ryan's vice presidential nomination speech last night, Palin said: "It was great. He talked about big ideas."
"I think Joe Biden will probably be tempted to call in sick the night of their one VP debate," she joked, "and I so look forward to that night."
Watch below, via Fox News:
— —
>> Follow Andrew Kirell (@AndrewKirell) on Twitter
Have a tip we should know? tips@mediaite.com