Palin Slams Daily Caller 'Frat Boys' for 'B.S.' Story About Her Tonight Show Demands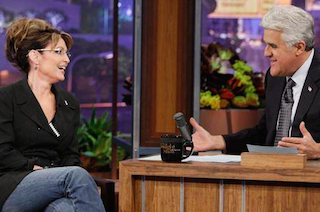 This week, The Daily Caller's Jamie Weinstein published an interview with longtime Tonight Show producer Dave Berg, who has a new book out about his experience working with Jay Leno titled Behind the Curtain: An Insider's View of Jay Leno's Tonight Show
. Included in the piece are some comments about Sarah Palin that the former Alaska governor is rushing to correct.
"After the campaign, she had a book to promote, and wanted to do the show, but it was difficult to work out the logistics because she didn't like to be away from her family for long periods of time," Berg told Weinstein of Palin. "Finally, the only way we could get her to come to Burbank was to book a charter jet from Anchorage for $35,000. The jet was big enough to accommodate all of her family members."
"Guess the boys at The Daily Caller spent a bit too much time at the frat house and not enough time in their college library," Palin posted on her Facebook page Friday. "Their claims about what I supposedly 'demanded' of the Tonight Show are, in their frat boy terms, B.S."
After using quote marks to describe the site's "conservative" "journalism," Palin goes on to post an email she received from Berg himself, which she claims contradicts the story published by The Daily Caller:
"I consider Gov. Palin's booking on Jay Leno's Tonight Show one of the best gets I ever got. I had worked long and hard to book her, both during and after her vice-presidential campaign. She turned out to be a charming guest, who also did a killer standup, and her ratings won the night by a large margin. You can't ask for more from a guest."
Of course, Palin could have both been a "charming guest" who helped boost ratings and someone who "demanded" a charter jet from Anchorage to appear on the show. Berg did not retract his statement that the private plane was the "only way" they could get her to do the show. Whether that constitutes a "demand" really just comes down to semantics.
Read Palin's full post below:
[Photo via screengrab]
— —
>> Follow Matt Wilstein (@TheMattWilstein) on Twitter
Have a tip we should know? tips@mediaite.com