Palin To Hannity: Hilary Rosen Outrage Highlights 'Divisiveness That Is Represented By' Obama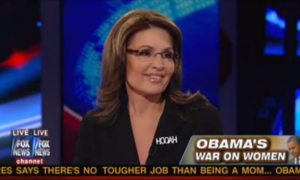 Sarah Palin weighed in on the Hilary Rosen controversy, speaking to Sean Hannity on Thursday night. The left is acting divisively, she said, when they should be respecting women's choices. She added, "We don't look to the president to speak for us," before calling for all women to stand up for each other.
Palin said comments awakened many mama grizzlies today and said it's "more of the same of the inconsistencies, the double standards, the divisiveness that is represented by" President Obama. Why, she asked, "is it that some on the left choose to divide, to incite with comments like that, instead of just respecting women's choices and what they want to do with the gifts that God has given them?"
Hannity went on to add that the remark hit two birds with one stone: " They got a shot in of the class warfare issue that the president has been hammering home, and then they try to take a shot on Republicans and women." The strategy doesn't seem to be working he said — to which Palin responded that they're "underestimating the wisdom of the people."
Palin added that she received a text message from her sister, who said the same people that slammed Palin are now slamming Ann Romney. "My sister goes on to say, it's obviously not a mom thing they are slamming, it's a conservative thing," Palin said.
Conservative women have been subjected to the most vile attacks, Hannity said, and the president doesn't speak out when the target is a conservative — despite his "lectures" on civility. Palin said those on the left won't speak out unless it promotes their "radical left agenda."
"We will be silent no more," Palin said, adding that all women should be standing up for each other.
Take a look, via Fox News:

Have a tip we should know? tips@mediaite.com