Palin To Hannity: Obama Isn't 'Man Of Valor,' No Surprise He'd Take Maher's 'Dirty Money'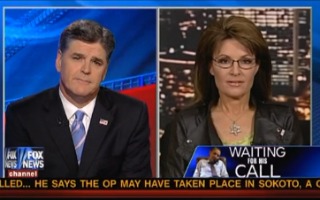 Sarah Palin made an appearance on Thursday's Hannity to discuss the million dollar check that Bill Maher — who has made several misogynistic remarks about Palin and others over the course of his career — gave to Barack Obama's Super PAC, without comment from President Obama, whom, you'll recall very recently issued a public condemnation of Rush Limbaugh's nasty comments about Sandra Fluke.
Palin shared that she's never seen President Obama as a "man of valor," and so isn't surprised that he has "accepted" this "dirty money" while remaining mum about Maher's comments.
RELATED: Sarah Palin Demands Obama Super PAC Return Bill Maher's Campaign Donation
She also shared that, while she's never received an apology from Maher over comments he's made about her or her children, she has no interest in ever speaking with him. What's more, she said, she isn't interested in receiving a call from Obama in the manner of Sandra Fluke, adding that such calls are best served for those who truly deserve it, like mothers who have lost their children in war.
"Our President is one who is trying to divide our country," Palin said. "He is not in this to unify America and to solidify our place as the exceptional nation in the world. He is trying to divide us based along lines of gender, of religion, of income, even of race. Look at his embracing of Derrick Bell, the radical college racist professor who he, you showed in a video last night, embraced literally and figuratively, asking others to open their hearts and minds to the radical agenda of a racist like Derrick Bell who believed that white men oppress blacks and minorities. And Barack Obama, evidently at least at the time, believed what Derrick Bell believed."
Watch it below, via Fox News:
Have a tip we should know? tips@mediaite.com