Palin To Hannity: Obama Supporters Need To End 'Addiction To Hope-ium' And Vote Romney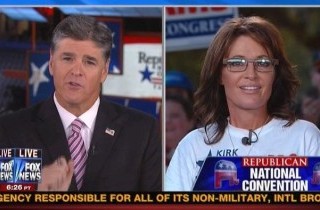 On what was supposed to be the first night of the Republican National Convention, former GOP VP nominee Sarah Palin appeared on Fox News' Hannity via satellite to discuss the 2012 election and implore supporters of President Obama to end their "addiction to hope-ium" and "open their eyes" and vote for GOP candidate Mitt Romney.
The former Governor of Alaska and host Sean Hannity discussed the recent success of conservative senatorial candidates Ted Cruz and Richard Mourdock, which Palin characterized as a result of people deciding "that the status quo has got to go, that …. we're saying, no, we're going to take it back, put government back on the side of the people."
The two then agreed that, in their belief, the Obama campaign is the "sleaziest, slimiest campaign," and a sharp break from the one he ran in 2008.
"Remember when he promised to fundamentally transform America? We knew during the campaign that we were in for a world of hurt under Obama's failed liberal socialist ideas that he would ram down our throats," Palin said. "Nothing comes as a surprise to me when I hear the tone that President Obama is taking in his campaign."
The two then lamented that, in their opinion, much of America is under the "trance" of "Obama-Mania" from 2008. "These people who still have that addiction to the hope-ium that was bogus four years ago, they have 71 days to open up their eyes and realize the path he's put us on," Palin said, "a path toward insolvency, a path toward fewer freedoms and orchestrated chaos and bankruptcy."
Watch below, via Fox News:
— —
>> Follow Andrew Kirell (@AndrewKirell) on Twitter
Have a tip we should know? tips@mediaite.com