Sarah Palin Was Disappointed In GOP Debate Bickering, Crowns Gingrich Winner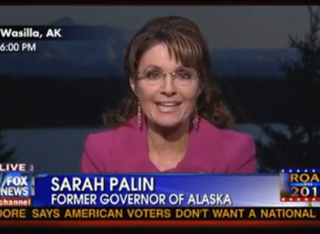 Is Sarah Palin starting to get tired of American politics? The sometime former potential presidential candidate delivered her post-CNN debate roundup to Greta Van Susteren today and seemed entirely dismayed by the "bickering" and question-avoiding she saw from the candidates. Noting that Newt Gingrich was the most substantive in her eyes, she crowned him the winner, and lamented the kid gloves the mainstream media seemed to be using with Republican candidates. Wait, what?
Yes, now that Palin no longer has much to lose in the political arena, moderators like Anderson Cooper and Brian Williams seem to be treating the Republican candidates too soft. She told Van Susteren she was dismayed that "they get to escape answering questions" and while "we need to have these candidates vetted," that required more concrete plans and hard-hitting questions.
Ultimately, tonight Palin concluded that "we are looking for a candidate to show us what their plan is… we didn't get that out of this debate." While, yes, Gingrich did the best job, that was only because he kept himself above the bickering, she said, comparing the bickering of the other candidates to the yelling of her children as they walk into the door from school (being in Wasilla, Palin is, of course, several hours behind, so the debate coincided with her children returning from school). Of course, her disappointment only leaves open a glaring question: would having Palin on the stage have eliminated much of the crosstalk and incoherent shouting we go tonight? America will never know.
Palin's assessment of the debate via Fox News below:

Have a tip we should know? tips@mediaite.com